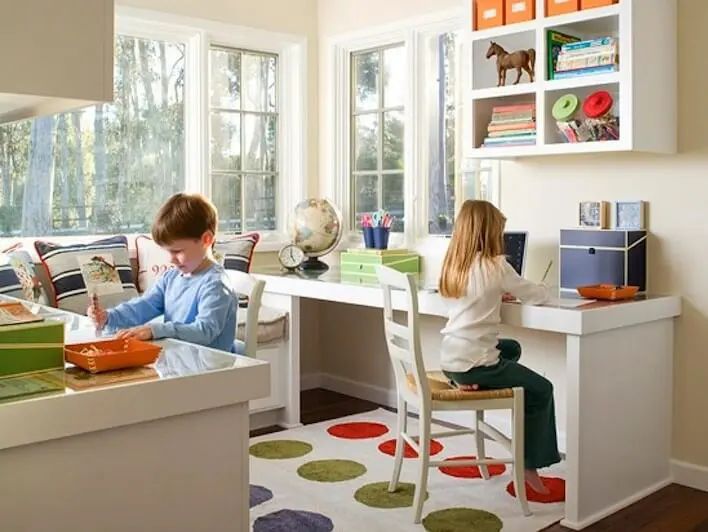 With great anticipation, school bells begin to chime all over the country as parents prepare their kids for another exciting year of study. Now is also a good time to preemptively plan the area of our home where school work will be done. The space should offer up the the ability to focus, have supplies handy and feel comfortable and motivational all at the same time. Our "Room of the Day" is an excellent example of a work zone properly decked out so that your young Einsteins can excel to the top of the class!
Get this kid zone room for your home!
We've done the shopping for you! Be inspired by and/or purchase some of these flavorful organizational and decorative accessories pulled right from our "Room of the Day" – just in time for a "Back to School" makeover. Here are our favorite Amazon.com
picks:
Twister Rug
– this 3 x 5 colorful modern circles Twister rug is fun and cheery. It's also a retro touch to your kids' work space that will also offer you a reminiscent walk down memory lane. Price: $109.99
Orange Photo/DVD Box
– organizing with colorful flair adds energy and functional storage; something students are always in need of. Price: $12.99 each
.
Penny Candy Jar w/ Chrome Cover
– being able to see what you're looking for is always helpful, especially when items are contained in these fun and decoratively delightful glass jars. Note: if you love the colored tops idea in the photo above, you can easily paint them yourself using craft paint. Price: $37.92 for a Case of 4
.
Decorative Blue/Tan Striped Toss Pillow
– decorating is all in the details and when kids have reading to do, it's nice to snuggle up to a comfy throw pillow and enjoy a session of page turning. These calming colors and bold stripes (or choose any pattern and shade you wish) also add to the area's decor. Price: $41.78 per 2-Pack
.
Lime Green File Folder Box
& Marine Blue Document Storage Box
– sturdy and quality filing and storage boxes not only look good and keep things neatly organized, they also create a "do your best work" tone for the room. Price: $29.95
and $24.95,
consecutively.
There's more! Here's a link to find savings for "Back to School" supplies: