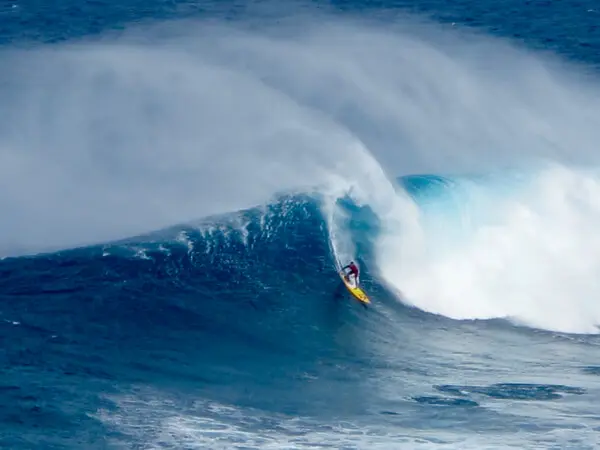 The "Energizer Bunny" and I recently traveled to Maui for our ten year anniversary. This trip was actually part two of three in a honeymoon series that started with our first:
The "mini-moon".
Lasting just four days, its moniker fit perfectly. But with the promise of the "half-moon", then "full-moon" to come sometime in the future, I concurred.
Fast forward ten years to the "half-moon".
Appropriately, we spent ten glorious days in beautiful, relaxing, ya-never-have-to-wear-a-jacket Maui. We decided to check out one of the most exciting surf spots in the world called, "Jaws". Mom nature delivered that day with set after set of 30'+ waves.
With a helicopter camera crew flying overhead and Matt and I joining a cliff full of curious onlookers, towed in surfers and wind and kite surfers scaled then conquered these moving mountains of water. It was incredible.
Afterward, we headed back toward home and stopped off at a small town called, Paia. And, of course, being the total decor nerd…I brought along my camera, just in case I found something like this:
As we entered the boutique shop called Prospect, this fabulously elegant industrial chandelier announced itself. Like a rock star sighting, I snapped off these photos, 'cause I just KNEW y'all would love it.
See also: Deconstruct a Lamp Into Industrial Glam Bam
I was especially drawn to the corrugated steel that anchored, upside-down, the many hanging rope lights. Their knots added more interest and texture and the round bulbs softened the harder elements.
Heart. Throbbing.
Suitcase. Too. Small. Dammit.
I may not have been able to bring these beauties home, but I'm absolutely gonna make my version of them. Stand by…coming soon!
Meanwhile, here's another beach shot to sooth your soul…it certainly did ours.
Mahalo and alooooooHA!
All photography by Skaie Knox, HomeJelly