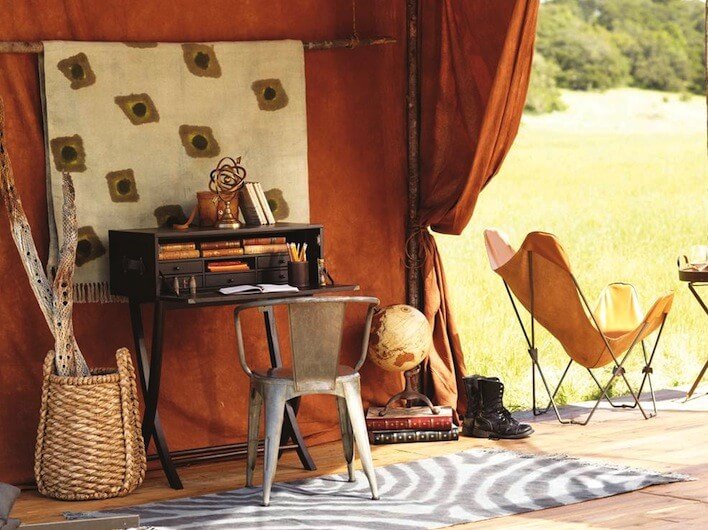 Traveling throughout Kenya was quite an adventure; my wilderness training certainly came in handy out on safari and while camping amongst elephant tracks, lionesses watching over their pride and the ever-so-curious colobus monkeys. We were fortunate to have brought along rugged gear and a Land Rover truck, the roads and environment there are merciless on an L.A. girl like me. Still, with all that, there was a grace and beguiling beauty that echoed the wildness of the savanna, its animals and the warmth of the native people. Luckily, I had the foresight to bring parts of this wondrous place back with me in beaded jewelry, a couple of hand-woven kikois and a hand-carved ceremonial spoon.
So, when I was recently invited to a sneak preview of one of my long favorite home decor stores, Cost Plus World Market, I was thrilled to learn of their homage to Africa fall collection "Kingdom Animalia." Inspired by their love of travel and adventure, World Market has put together an eclectic line of furniture and home accessories that captures the wild and exotic spirit of this far away continent. The mixture of old world, earthy textiles and warm, luscious colors play perfectly with familiar "form meets function" vintage-mod pieces that are making a decor comeback. As they say out in the bush, "Put on your tracking eyes" as you'll discover our favorite picks along with some valuable tips on how to infuse the following trending pieces and accessories into your own home. Asante sana!
The butterfly chair is a classic safari staple thanks to its durability and ease of mobility. This piece would be a fantastic addition to any type of space and is just the kind of design candy visitors will definitely notice.
(Top photo): Because of the collection's neutral story designed to create a certain feel and moment in time, individual items can be infused into any style of room. Our favorites? The campaign desk that is clearly a callback to Africa's British Colonial years (see next photo) and the wall art worthy cotton dhurrie rugs, another great accessory to add interest from floor to eye level.
What's trending this fall? World Market's lead furniture and decor merchant, Kimberly Yant-Dominguez suggests mixing medias such as woods and natural fibers, textures, and metals. This current design trend creates a traveler's "collected over time", layered effect. Our favorites above? Besides the campaign desk, the added interest of the woven baskets and natural jute rug would work magically in a modern, boho, or even contemporary space.
The Travellers Trunk and basket were created as multifunctional pieces; they have a fashionable edge, durable copper and faux leather detailing, and provide decorative storage for just about any room in your home. Additionally, the trunk's lean profile lends itself perfectly for small or cramped spaces.
Saving our favorite find for last, this Travel Trunk Bar has a hidden surprise…a bar! When closed, this pub-on-wheels disguises its insides as a regular piece of luggage. Great for stylish imbibing and entertaining, you can party inside and out with this African-friendly boîte.
All photos courtesy of worldmarket.com. HomeJelly was not paid to promote these products…we just totally dig them and thought you'd like a sneak peek, too!
Gift Card Giveaway!
We're going to give a $25 Cost Plus World Market gift card to one of our HomeJelly Facebook followers, so "like" us and leave a comment telling us which item from "Kingdom Animalia" you love the most (or tell us where you'd love to travel to on your next getaway!). Winner will be announced Friday, July 20th @ 12noon PST.
The winner of the $25 Cost Plus World Market is: Sandy Jerry Seruntine! Thank you all for your wonderful and creative comments!