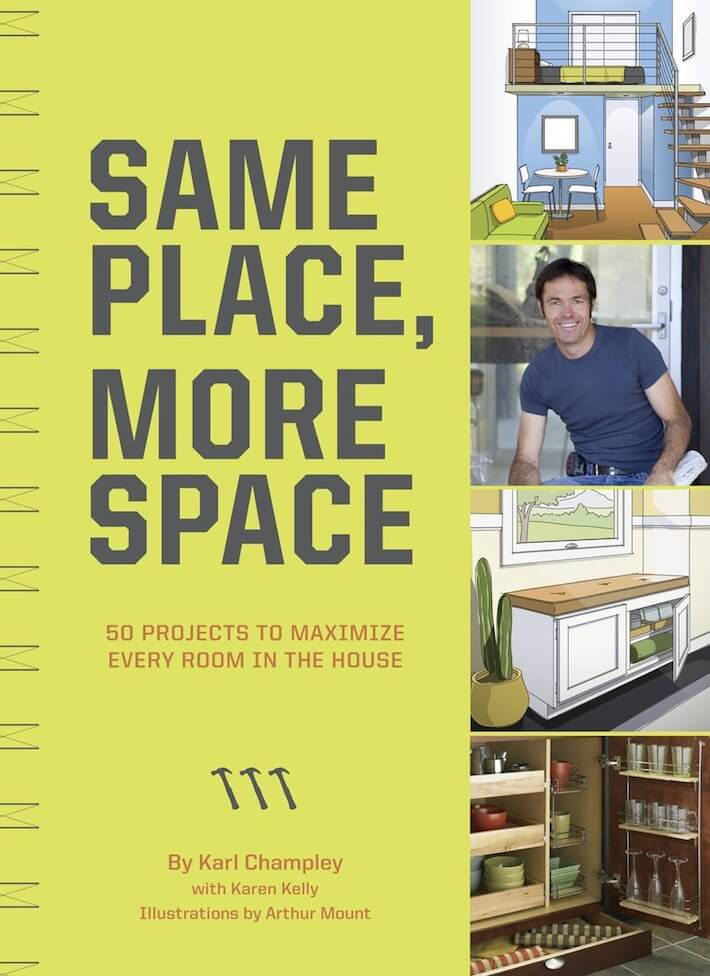 Call me nerdy, but I believe books make wonderful presents. So, as I was writing out my list of holiday shopping, I decided to select our favorite home decor and DIY books for you to gift your loved ones this year.
Why these in particular? Because after reading any one of them, you'll be smarter, wiser, and more inspired than ever to get yourself DIYing and making amazing creations for your home. Oh, and if you're simply interested in the mental exercise of knowledge, your brain will work up a sweat for sure!
Below are six of the best books I came across this year and can be purchased by clicking their links. Enjoy and happy shopping!
Shannon Quimby's Color, Create, Decorate
If you'd like to learn about all things reuse, repurpose, recycle, and re-awesome, buy yourself a copy of this fabulously creative how-to and inspirational decorating book. You'll learn how to see the world differently as well as the things around you and how they can be upcycled and re-imagined into something beautiful and unique for your spaces. Price: $1.94 – $2.17 (paperback). Order!
Mike Holmes Kitchens & Bathrooms
I loved this part of the book…it's like having the Jason Bourne of renovation having your back. Professionals and tradesmen like Mike have the experience and expertise to "see things" we don't. After reading this renovation "bible", you'll be armed with the knowledge to make less mistakes and keep more of your time and money. Read our HomeJelly book review for more information. Price: $14.99 (paperback). Purchase!
Salvage Secrets
Designer/salvage guru, Joanne Palmisano offers us numerous resources, ideas, and inspiration when it comes to the world of reused building materials, fixtures and finishes. We are presented with high-end results and, with the help of numerous experts around the country, a whole new alternative of decorating that will bring character, history and depth to our homes. You can learn more in our book review. Price: $18.52-$29.14 (hardcover). Buy!
Home By Novogratz
Come on, you know you wanna know. We all do. How much does it cost to renovate, redesign, refurbish a space at the hands of a couple superstar designers? Well, we're finally let in on the budget, which offers us an appreciation as to what it can take, money-wise, to complete these types of projects. Our book review tells more. Price: $3.69 – $24.63 (hardcover). Snap up!
Simply Imperfect
Simple, slow, uncluttered, flea market, worn wood, cracks, weathered, lovingly used. The photos and story-like text found in this book depict how we can integrate into our spaces these words that define the use of "wabi-sabi" design, revealing the essence and beauty of simplicity and intended imperfection. You'll get more of a feel of Simply Imperfect by reading our review. Price: $13.77 (Kindle), $17.00 (paperback). Buy!
And…hot off the presses…
Same Place, More Space
Good friend and master builder, Karl Champley shows us how we have hidden space in our homes that we can take advantage of and, thus, increase our living square footage. He also shows us clever ways to utilize this found real estate to better suit our needs. With helpful tips and how-tos, you'll be wanting to thank this Aussie for the clever way he changed your life. There are specifically 5 things we love about this book…check it out! Price: $9.99 (Kindle), $5.12 – $9.98 (paperback). Get your hands on one!
What is your favorite DIY/design book?
This post contains affiliate links.