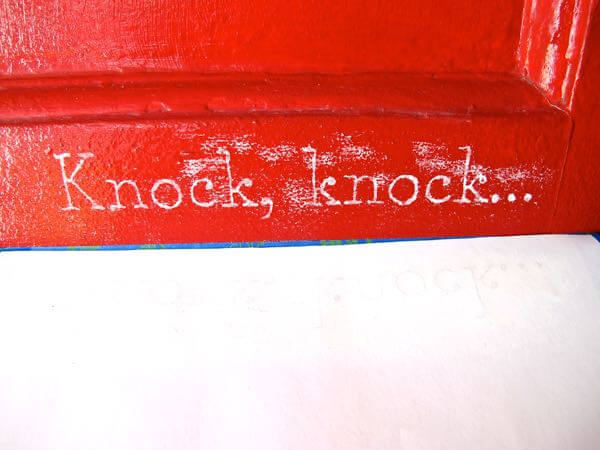 "Knock, knock!"
"Who's there?"
"Theodore!"
"Theodore who?"
"Theodore wasn't open, so I knocked."
(Cue the booooooos!")
I know, I know. Pretty cheeky (nay, cheesy), eh? But, what could be funnier, is that, with this kind of door greeting, you might very well hear a good one…if you remember to always ask "Who's there?", that is.
Well, this kind of DIY project is a hint as to my husband, Matt's and my personalities, and one that found itself on our Spruce Up Your Steps for Spring projects list. So, why not delight your visitors to a little bit of silliness? I'm a huge fan of not taking design too seriously, and today's post might just offer a little lightheartedness for your home's door decor as well. Oh, and did I mention how fast, easy and inexpensive this is complete? Just like a good joke! "Knock, knock…"
Supplies:
• printout of greeting
• level
• painters tape
• pencil
• chalk
• interior/exterior paint
• small brush
Instructions:
1. Dust/wipe down door.
2. Print out a greeting. You can choose any one you'd like, in any size you'd like, in any font you'd like (I personally LOVE myfonts.com to find the newest and coolest typography).
3. Smear chalk onto the BACK of your printout. Be sure to make it nice and thick, so that it will transfer easily onto your door.
4. Using your level, mark three small dots where you'd like the bottom of your greeting to sit.
5. Place a strip of painters tape along the dots.
6. Place the bottom edge of your paper onto the top of of the painters tape, then tape your paper onto your door.
7. Using a sharpened pencil, trace and fill in the lines of your greeting. You'll then see you've made a perfect template!
8. Using a small brush, follow the template and hand paint your greeting onto your door. Don't fret about the chalk, it will absorb into the paint, and after the paint has dried, you can easily brush away any excess chalky residue. Note: if you make any mistakes, you can touch it up using the same color as your door.
You're done!
Now it's your turn!
What message would you want your door to give visitors? Or…leave us your favorite "Knock, knock" joke in the comments below! Fun!
All photography by Skaie Knox, HomeJelly