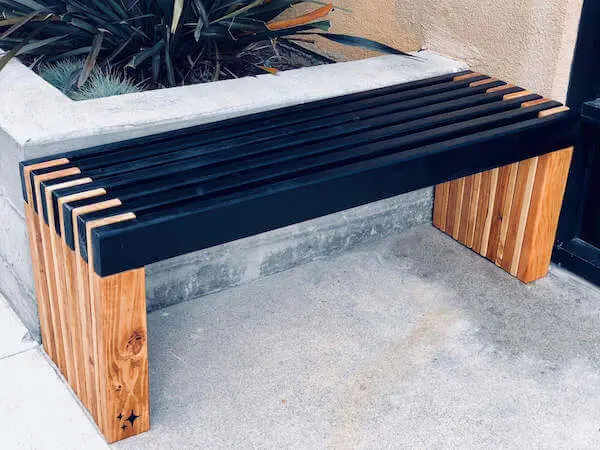 This is a sponsored post and contains affiliate links.
Easy-peasy. Yep. Totally. I had nooooo oopsies with this project.
Okay, so I had a couple oopsies, but isn't this how we grow?
Now, then. Let's get to it.
Seriously, this beautiful project, one that looks quite expensive and somewhat complex was quite doable. And, thanks to today's fabulous sponsor, HomeRight, and my paint-like-a-maniac, go-to gadget, the HomeRight Super Finish Max Paint Sprayer, I was able to DIY this sleek slatted bench with ease (save for a couple "oopsie-doodlee-doos" that I'll be sharing with you along the way). Read why you should definitely add this super paint tool to your toolbox on my HomeRight Expert page.
I also want to give a shout out to my DIY sister-in-arms, Ana White, for providing today's schematics and guide. I made a few slight modifications, but, she deserves the design props for sure.
I also thought it would be helpful to include a video with tips on making this project smooth and easy.
Watch the VIDEO TUTORIAL!
Tools: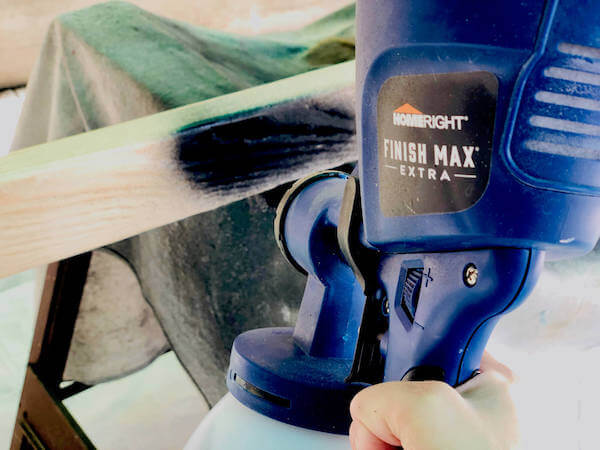 OR
NOTE: To REALLY save time, you can do what I did and have the good folks at Home Depot cut your wood for you. Be sure to have your cut list ready. OOPSIE TIP: though this may save time, you'll need to pay attention to the cuts. I had about 4 that were slightly off (about 1/8″). Next time, I would verbally underline that the accuracy is critical (all the while saying this with a smile and song in my voice!).
• hand sander or block sander
• HomeRight Super Finish Max Paint Sprayer
• cordless drill (tip: you may want two for this project. See below for details)
Supplies:
• 7 pieces of 2″ x 4″ x 96″ prime kiln dried whitewood studs
• 2 pieces of 1″ x 4″ x 10′ common board
• P120/P150 sandpaper
• paint and/or wood stain
• wood glue – make sure the glue is EXTERIOR grade
• 2″ wood nails
• drill bits – (a.) 1/8″ for pilot holes – add 1/64″ more if you have harder wood, (b.) 3/8″ for make-shift countersink holes, (c.) Phillips screw bit
• clear multi-surface waterproofer spray
Cut List:
• 7 – 2″x4″ @ 50″
• 14 – 2″x4″ @ 15″
• 12 – 1″x4″ @ 18 1/2″
Prepping Instructions: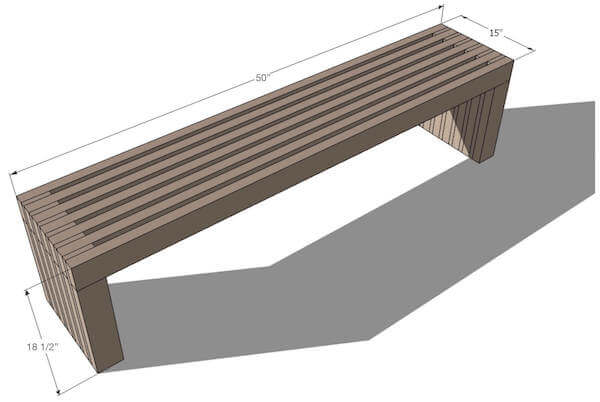 DIY Tip: Read all instructions and look over diagrams before starting, and be sure to use your noggin when working with tools! For this design, it's BEST to paint and stain before putting this all together.
1. Cut the boards to size according to the cut list. Boy, did it save time having Home Depot cut my boards! Yes! Otherwise, put on some good tunes and cut away!
2. Sand all boards with P120-P150 paper to smoothen rough or sharp edges. This is the tedious part of the project, but absolutely necessary. You definitely don't want to get splinters in your tushy!
3. Paint top boards. This is SO easy with the Super Finish Max Sprayer – it took me about 15 minutes to complete all 7 boards. Allow to dry.
4. Stain the edges of the remaining pieces. Organize your 1″x4″s and the remaining 2″x4″s.
• Set aside 4 pieces of 2″x4″s and stain all edges and ALL sides. NOTE: it is very important to SEAL all surfaces of your bench, especially if it will be kept outside. Moisture can wick from the wet ground and cause wood rot.
• Stain all the edges of the remaining 2″x4″s and 1″x4″s.
5. Drill pilot and countersink holes. This is VERY IMPORTANT to do! See diagrams below where to place the pilot holes. TIP: be sure NOT to drill pilot holes into your FRONT long piece (this is the first board you'll work with).
View TIP!
Putting-It-All-Together Instructions:
DIY Tip: you may want to have TWO drills for this project – one for creating your second pilot holes, another for screwing in screws. This will speed up the process!
1. Start your first layer.
A. Place your first layer of boards face down (see diagram). Lay out 1 long 2″x4″ and 2 short 2″x4″s. Apply wood glue to 1″x4″, then place on top and screw down. TIP: Start with your best-looking top board first. This will be the front of your bench.
OOPSIE TIP: once you're ready to screw together your boards, you'll want to first line them up where you want them, then create another PILOT HOLE by drilling through to the board you are going to screw in to. You'll avoid the dreaded "gap creep" that can happen when your screw doesn't want to enter the wood.
B. Screw 1″x4″ down to both the top and leg 2″x4″. See diagram for the placement of the screws.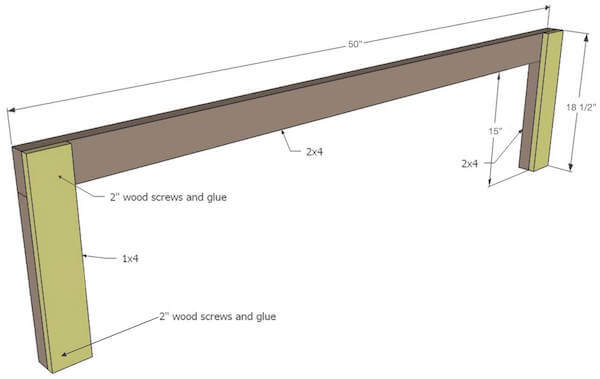 2. Add the second layer of 2″x4″s onto the first layer of 1″x4″s. Be sure to create your SECOND pilot holes and add your wood glue. Note screw positions on diagram.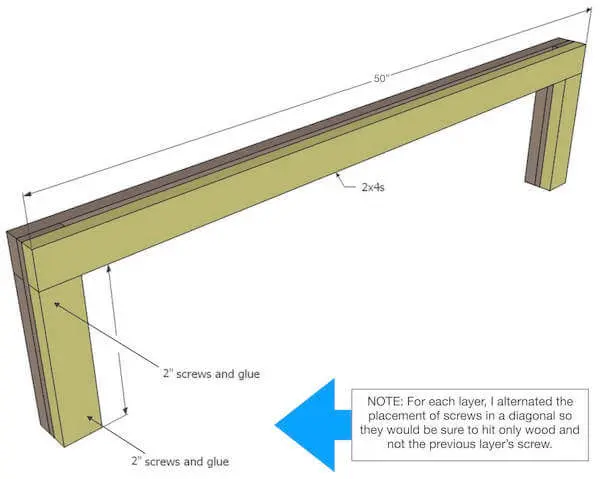 3. Repeat by laying down a 1″x4″. Again, add second pilot holes, glue, then screw down both the top and leg 2″x4″s.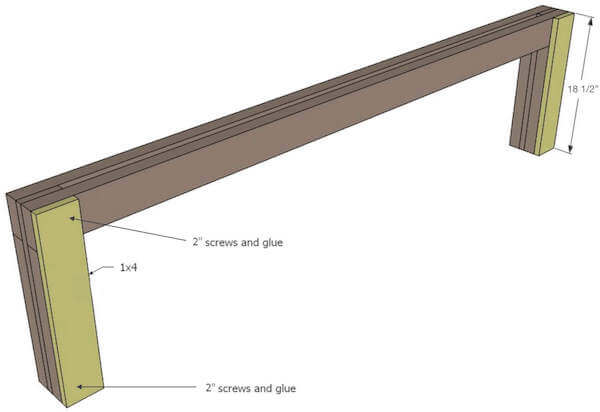 OOPSIE TIP: Check the top edges of your bench as you go to insure you have no gaps. This will make for a FANTASTIC-looking project!
4. Continue until you're done! If you'd like, you can fill the back of your bench (the painted part) with wood filler, then paint over for a more finished look.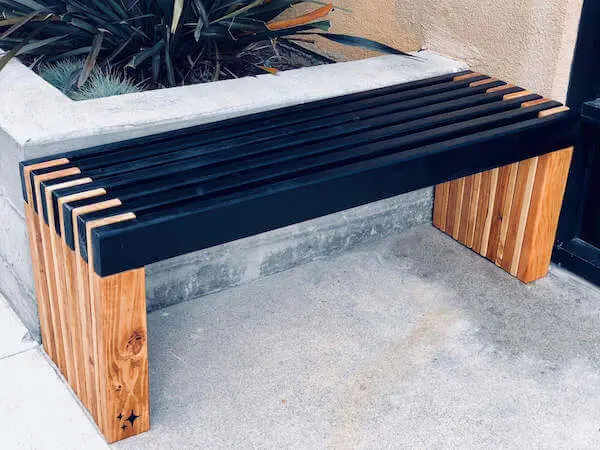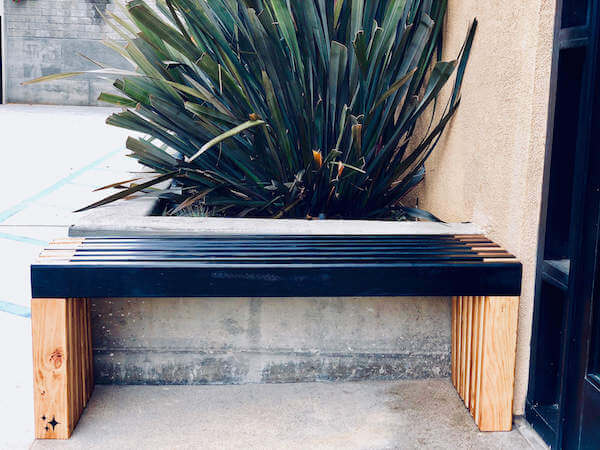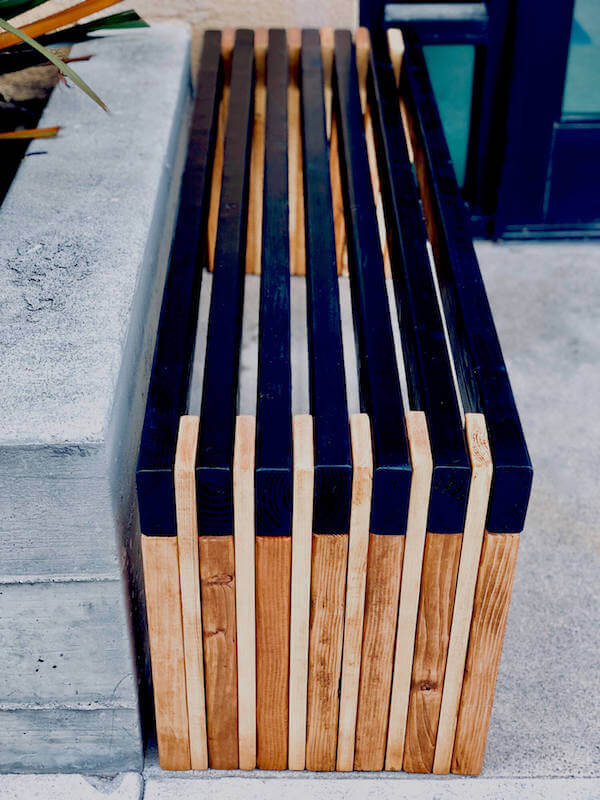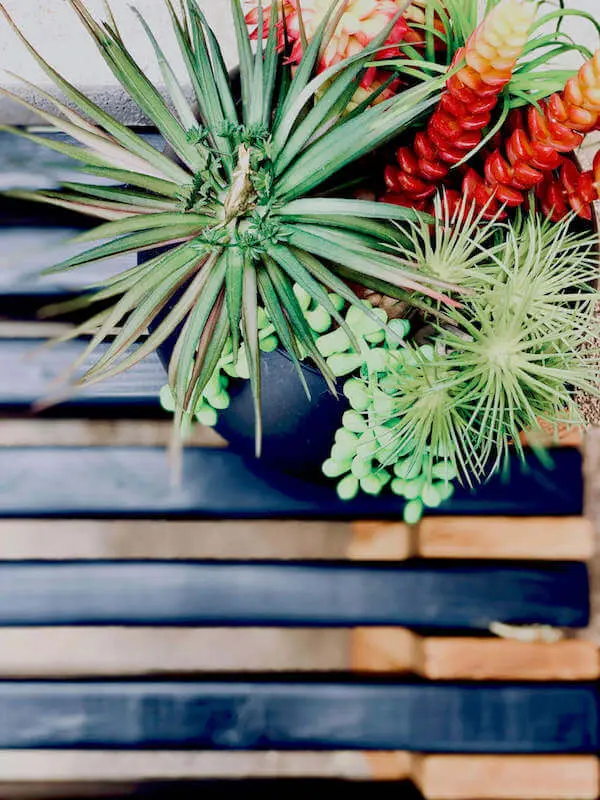 PIN IT!
If you'd like to DIY this bench, pin it to your board for later or share with a friend! Thank you!
This post was sponsored by

I've teamed up with HomeRight and am proud to be one of their paid brand ambassadors. I also received a HomeRight product sample to use in this post and have included affiliate links to the tools and supplies I used in this project. My personal opinions

are completely my own based on my experience. I wouldn't have it any other way!