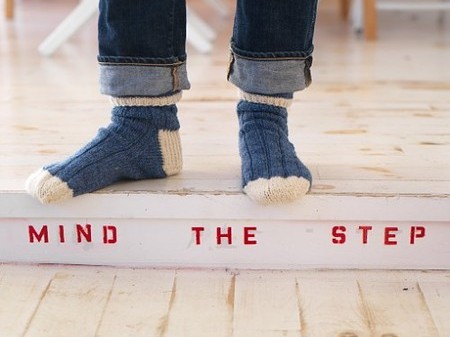 When it comes to design, there's something exciting and inspiring about the unexpected. When we happen upon something we've never seen before, there can be a sort of internal surprise party that goes off in our heads, exhilarating, and even a bit disorienting…in a good way. Then, there's the "Why-didn't-I-think-of-that?" reaction, because, let's face it, the best ideas are often the simplest ones, projects or ideas most of us can pull off ourselves. Today, we see three different takes on architectural elements found in many conscientiously designed homes, with just a little creative tweak. Bartender…I'll have a vodka soda and some zesty decor details with a twist.
These vintage iron brackets are clearly showing off their charm and character, a wonderful love connection to an all white, modern kitchen. The subway tile seems totally cool with being the background to these showy and elegant shelves; moreover, the dishware stands just a bit taller, proud to be displayed amongst all the antiqued iron.
As most of us know by now, humor in the home should be found, even in the smallest of elements. Here, safety is the excuse to pull off whimsical step lettering; the spray painted, industrial affect reads casual, yet practical. The white-washed hardwoods seem almost to fade into the floor, possibly a bit embarrassed by the step's demand for attention.
At first blush, these painted panels, though elegant and meticulously executed, might give the impression of design feature overcompensation. Yet, with nearly 14″ base boards, that theory doesn't hold much water. We then must return to the walls and give props to these repurposed corbels, usually found under shelves, eves or archways, they work perfectly with the blue panels to flaunt their attributes. Excellent as mini-shelves, their size further showcases the items placed upon them, frankly upstaging the other accessories in the room. The shoes, most admittedly, are a nice homey touch.