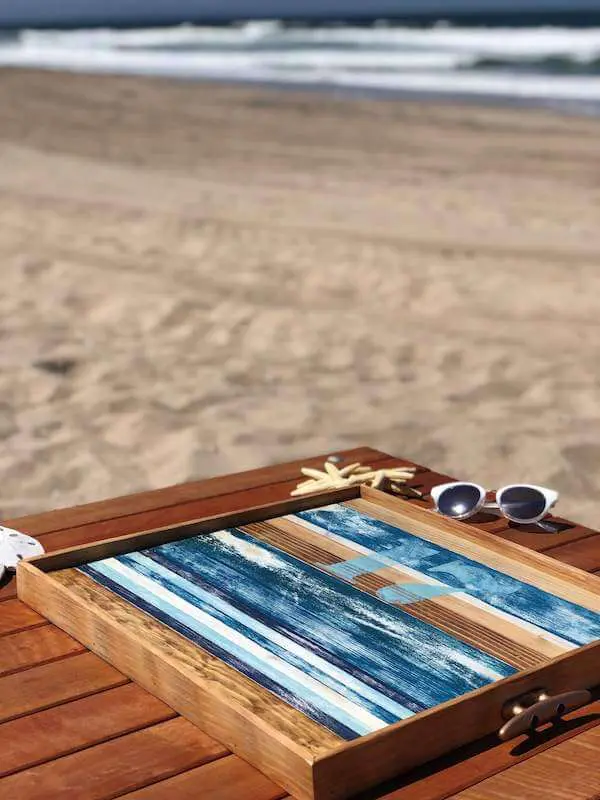 This is a sponsored post and contains affiliate links.
There's nothing better than a warm day at the beach, hanging out and relaxing with family and friends. Well, with today's how-to, you can add a little of that feeling into your home: a coastal-style tic-tac-toe board and serving tray.
With this crafty and multi-purpose DIY project, you'll be able to offer guests a simple, conversation-friendly game with whimsical, resin* starfish "X's" and sand dollars "O's" or, on the flip side, a nautical-inspired tray to serve whatever suits your culinary or mixological fancy!
Check out the supplies below, and these FREE downloadable Coastal Tic-Tac-Toe 'n Tray Design Templates. Then, hop onto the website of today's sponsor, Universal Furniture , and follow our step-by-step instructions to create something special – a perfect way to add "by-the-sea" functional fun to your home's summer or coastal decor.
*To be ecologically mindful, opt for purchasing cruelty-free starfish and sand dollars – see links below. They look fantastic and allow sea creatures to remain in their natural habitats.
Supplies:
1" x 15 ½" x 15 ½" wood piece
¼" x 1 ½" x 6' batten
clear coat polyurethane OR beeswax + mineral oil mix
(2) brass cleats
(2-4) wood clamps
Tools:
Optional: drill
Cut List:
(1) 1" x 15 ½" x 15 ½" wood piece (Game + Tray piece)
(4) ¼" x 1 ½" x 15 ½" beveled batten pieces (Trim)
(5) ¼" x 1 ½" x 15 ½" batten pieces (Tray top)
(2) ¼" x 2 ½" x 15 ½" batten pieces (Tray top)
(6) ¼" x ½" x 15 ½" batten pieces (Tray top)
Instructions:
Click here for FULL how-to instructions, along with additional tips in our article on today's sponsor: Universal Furniture's Explore Home blog.
Meanwhile…
WATCH OUR COASTAL TIC-TAC-TOE BOARD 'N SERVING TRAY VIDEO TUTORIAL:
This post is sponsored by

We were paid to create this video and post by today's sponsor. We have also included affiliate links to the tools and supplies used in this project. The compensation we receive from affiliate sales helps fund our site to provide free how-to projects for y'all. Our personal opinions

are completely our own based on our experiences…we wouldn't have it any other way!