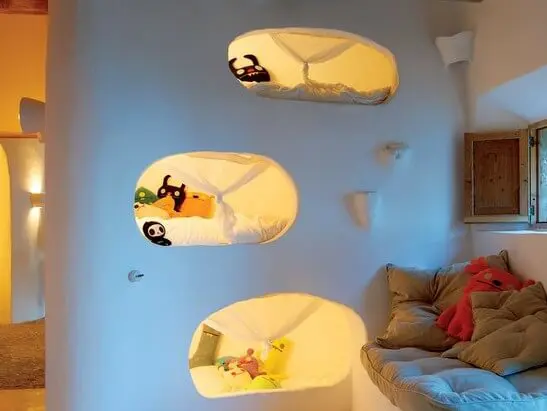 One of the things Bobby Brady will always be remembered for is his incessant bedtime badgering of his TV brother and bunk bed partner, Peter. This might have been because, along with the rest of us kids "back in the day", these beds had no privacy, limited moving around room, and very little panache. How the Brady boys would've loved to have slept in today's "Design Candy" cots, designed for ultimate personal space, customized style, and multifunctionality. "Hey Peter! You awake?"
Outrageously cool cave bunks would have any kido spelunking into bed!
This mod mini-modular loft bed allows for a posh and personal space.
Here's a fantastic solution for youngsters to have their separate sleeping, reading, and hangout quarters within a shared room.
What child wouldn't love this loft bed with private playroom? Hmm…wouldn't mind one myself.
Converted closet space loft bed is stylish and totally kid-customizable.
All photography by Skaie Knox, HomeJelly