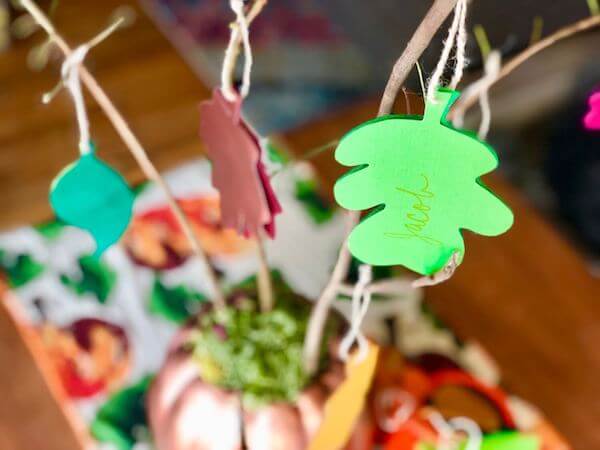 This post is dedicated to my friend, Jacob Conde.
Oh, the holidays! For some, like moi, it's the most magical time of year. For others, it's quite stressful, a series of months that can't come and go soon enough.
Bah-humbug, right?
Well, not really. I can understand the rushing and running around to holiday parties and events can get a little crazy, so today I thought I'd share a simple craft project that can help bring all of us back to the reason we celebrate Thanksgiving…to give thanks!
Introducing, the Thanksgiving Tree Centerpiece! It's a fun how-to you can do with the kids or a friend. For each day one week (or however long you wish) before the big day, everyone can write what they are thankful for on a leaf, then hang it upon the tree. By the time Thanksgiving rolls around, your "Thankful For" tree will be filled with gratitude and leaves, which can then be displayed on the main or kids' table. Yep. A double-duty craft.
You can thank me later.
Here now is the how-to and FREE printable leaf template:
Supplies:
• 1 faux pumpkin
• spray paint
• sand or glass pebbles
• found branches
• moss
• felt
• colored cardstock paper
• Velcro Brand sticky-back coins
• twine
• colored Sharpie or markers
Tools:
• hole punch
• sharp knife or FISKARS craft knife
• scissors or FISKARS Amplify®Mixed Media Shears
• FISKARS cutting mat
• FISKARS pruners
Instructions:
1. Cut the top off a faux pumpkin with a craft knife.
2. Spray paint pumpkin, then allow to dry.
3. Fill prepared empty pumpkin with sand. Or, if you have pebbles, glass stones, or rice this is good, too. (kid-friendly step)
4. Clip, then add branches and moss. (kid-friendly step)
5. Trace, then cut out a felt leaf, Trace, then cut out a paper leaf. Use our FREE DOWNLOADABLE leaf template or any shape you wish!(tween/teen-friendly step)
6. Hole punch paper leaf, then cut a hole in felt leaf with craft knife or scissors.
5. Add a Velcro sticky-back button to both the felt and paper leaf, tie on a piece of twine to hang. (kid-friendly step)
Leaves are now ready to be placed into a bowl left next to the tree, to then be written on each day, ONE WEEK before Thanksgiving.
7. Finishing step: Have everyone in your family write something you're thankful for onto the paper side leaf, then hang.
EXTRA: for something a little extra special, you can add felt acorns – watch how we made them in our Craft an Autumn Corn Husk 'n Felt Acorn Wreath project.
Watch us LIVE here!
GIVEAWAY CLOSED!
CONGRATULATIONS, @skeie , Charina Tsujiuchi, @susitravl , and @sides581 – who all won ONE (1) item from the following Fiskars products:
Stay tuned for more giveaways to come!
How to Enter:
1. Comment on the Facebook Live post and TAG a friend.
2. "Like" the HomeJelly Facebook page AND the Ounce of Salt Facebook page.
• BONUS! Tag an additional friend on the FB Live post for an additional entry.
That's all you have to do! Giveaway is open to U.S. residents ONLY. Contest ends at 8pm PST Sunday, November 11th – winners will be announced the next day by 7pm PST and randomly selected using GetComBot – winner will be contacted by direct message and has 48 hours to accept before another is drawn. Must follow all steps to win (Bonus step NOT required). We recommend following us to be updated on winners, news and more giveaways! No purchase or payment necessary. This giveaway is not sponsored, administered or endorsed by Facebook, Inc.