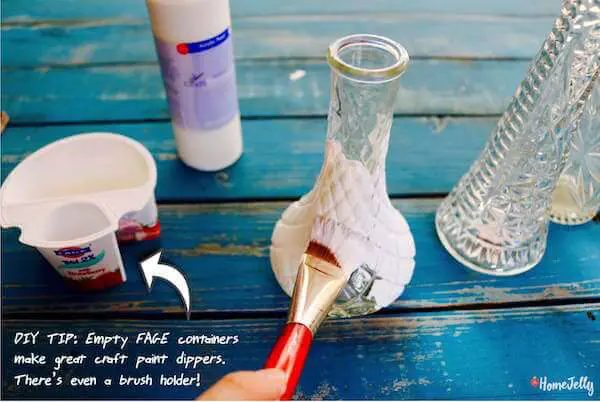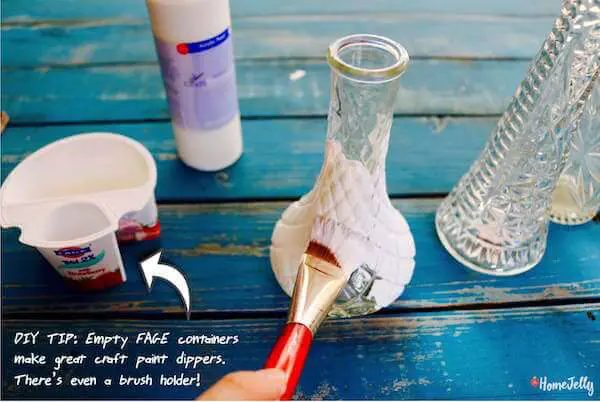 Sometimes, a girl just wants things to be easy. Especially, when it comes to DIYing…or, in this case, ReDIYing!
On a recent trip to my local Habitat for Humanity ReStore in Orange County, California, I had a mission to ReDIY a few items into something spectacular! On a personal challenge, I had no idea what I would find (which is also the fun part!), but, within minutes, I had a basket full of super cute and super inexpensive items for me to repurpose.
Aaaaaand, thank you Pinterest for the access to so many great ideas!
To keep it short and sweet, I thought I'd post this simple how-to, where I reimagine typically outdated cut glass vases into something chic and current! I call these my "Scandi-Vase 'n Candle holders"!
Easy and multi-purposed…a DIY girl's dream come true!
Materials:
• cut glass vases (cost: $1 to $2 each…that's it!)
• craft paint brush
• craft paint (I used white, but you can use any color you wish)
• chalk paint (found at Home Depot, Michael's or most craft stores)
• P120 sand paper (fine grit)
Optional: wax finish or polycrylic seal
Instructions:
1. Clean glass inside and out, then paint a single layer of craft paint. Allow to dry.
2. Paint 3-4 coats of chalk paint. Allow to dry in between coats. This is the part that will take the longest. You can put your timer on for 2 hours in between each coat. The result will be a rich, deep color that will last!
3. Gently distress the edges of the cut glass with sand paper. Use a fine grit and go slowly. If you sand off too much, you can touch up later…don't stress! This is seriously easy and fool-proof!
4. OPTIONAL: seal with a soft wax or polycrylic finish. I didn't do this step, but, I might. Not sure how the paint will fare with melted wax. It's all a bit of a trial and error sitch. I'm guessing if I apply wax, though, I might compromise the unique flat finish of the chalk paint. All in all…with a total of $4 invested (I had the chalk paint already from a previous project), I can risk a bit of experimenting.
Done-ZO!
To make this project even easier…watch the fun how-to video!
All photography and video by Skaie Knox, HomeJelly