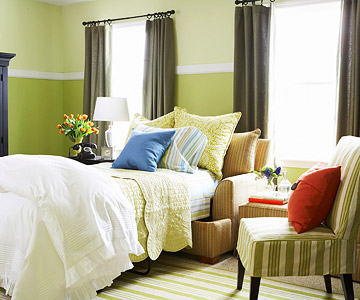 This post contains affiliate links.
Oh, dear. Guests are coming for the holidays and we don't have a spare bedroom! What is a holiday host to do? Whether you have a champagne or beer budget, here are some strategies for finding space for guests and being a gracious host this holiday season.
Create Space for Guests on The Champagne Budget
Pop that cork! You can afford real French bubbly for the holidays! You might not have the budget to punch out a wall and add a spare room, but you do have enough champagne money to upgrade your furniture.
Get a Sofa That Doubles as a Bed for the Office or Living Room
There are many options on the market for sleeper sofas – from smaller scale love seats to massive couches that open up to queen sized beds. Not loving the idea of a fold-out mattress? Consider getting a sofa with a deeper or longer seat cushion, so that it can easily be converted into a bed by just adding fresh linens.
Purchase a Storage Ottoman to Hide Linens and Towels for Guests
This double-duty furniture piece can be a great coffee table or foot rest by day, and bedroom linen storage by night.
Create Space for Guests on The Beer Budget
Bust out that bottle opener you got in Cabo that sings "La Cucaracha"! It's time for some inexpensive "brewskies" to ring in the holidays! A good stash of beer won't break your holiday budget and neither will these tips for finding extra room for guests.
Use a Curtain Room Divider
Fabric, how do I love thee. Let me count the ways. For just a buck or two per square yard OR if you're handy and want to use up old bed sheets, you can make yourself a quick and inexpensive room divider. Get yourself a nice long curtain rod and hang it from the ceiling. Or get yourself over to IKEA for some ceiling tracks and hook up that fabric.
Though a curtain divider is not sound proof, it sure is sight proof. This way your guests can lay any which way on their pump-up air bed, spare mattress or couch without being too embarrassed to show their undies.
Put a Bed In Your Closet
Bed in my closet? That's crazy talk!…or is it?
If you can find the time to clear out the clutter in your closet, perhaps there is some space for a cushy mattress on the floor to serve as a temporary guest bedroom? Converting your closet to a bedroom might sound kooky but it can provide some privacy and comfort if you add some warm lighting and lovely paint.
Re-purpose Unexpected Rooms To Be a Sleeping Space
If you don't have a closet space large enough for a small mattress, consider using another room in the home in an "untraditional" way. Perhaps you can use that dining room you never really use and convert it into a temporary bedroom with some curtains? How about a landing in the middle of your staircase? This photo above shows how a little nook can be converted into a window seat. These kinds of "in-between" spaces might be just large enough to fit a small bed.
Being a Gracious Host For All Budgets
Add A Personal Touch: Prepare a Bedside Welcome Basket
Prepare a basket of essentials and luxuries to welcome your guest, a portable comfort station that can be stowed away in the day time. What are some little things you can leave your guests so they feel welcome and comfortable in your home?
Bring in some fresh flowers to their bedside.
Leave a little stack of your favorite books, bottled water or a drinking carafe
Provide fresh towels, a cozy robe, and an extra set of travel toiletries in case they forgot something of their own, and a warm pair of slippers.
Your guests will value your thoughtfulness as the gracious host.