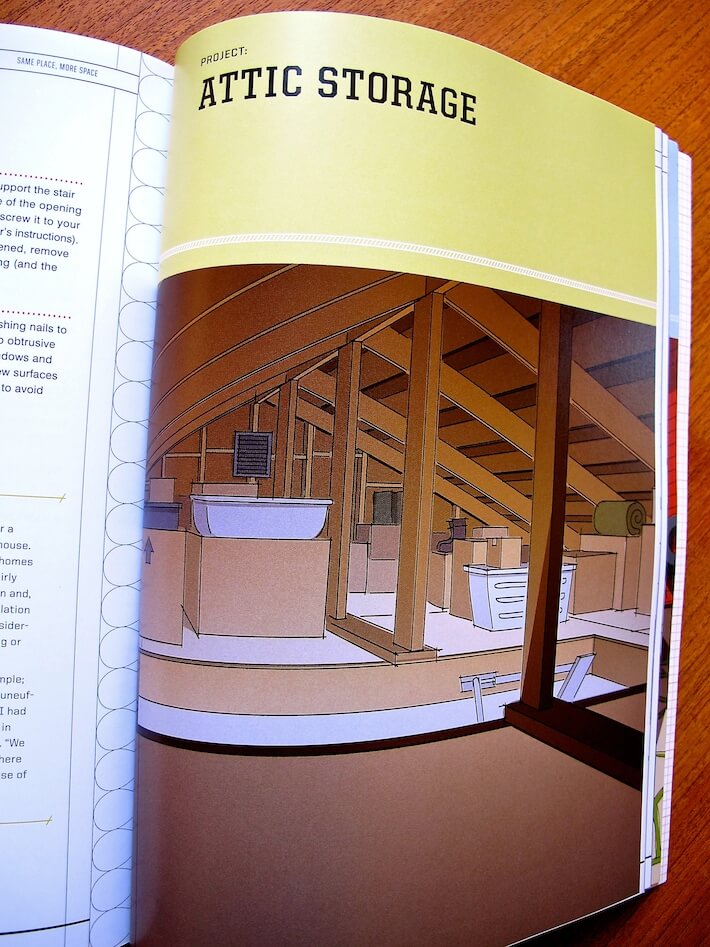 Recycling, repurposing and reusing is no longer a trend, it's a way of life for those of us who live consciously. I've certainly had a blast re-creating home decor gems for our house using leftover, unused, or found items such as: a one-of-a-kind designed reclaimed wood console table, a colorful, outdoor solar chandelier, and one of my most favorite projects, two curbside chairs upcycled into a bench.
Well, recently, I was delighted to read a book that speaks to a whole other side of re-imagining. It's called Same Place, More Space: 50 Projects to Maximize Every Room in the House
, written by my Aussie pal and master carpenter, Karl Champley.
You see, what Karl so cleverly demonstrates in this fabulously written book, is how we can discover and create new ways to maximize most any space in our homes. From as small as an under-the-sink cabinet, to that unused square footage under your stairs, Karl offers unique and useful ideas aimed at the weekend DIYer and to individuals looking to challenge their carpentry know-how. I've already dog-earred the "Entryway Home Office" under the stairs…simply a brilliant use of space!
5 things HomeJelly loves about Same Place, More Space:
1. Skill -Level Key
At times, when attempting a do-it-yourself project, we come to discover that, well, we really can't (and shouldn't) do-it-ourselves. Sometimes it's just outside our scope of knowledge. In this book, Karl smartly marks each project with a skill-level key (via hammers), giving us that all important how-to "head's up" so we can be properly informed about whether we should strap on the tool belt for this one or not.
2. The Project Game Plan
I'm all about preparation, and knowledge is the first rung on that ladder. Karl gives us some fantastic steps to think through before hopping in the car to Home Depot, saving us time and money. Note: sorry guys, this equivalent "road map", applies to you, too. One of my favorite sections in this chapter is "Projects for DIY Newbies"; a list of doable projects and page numbers that directs us beginners to where we'll feel comfortable getting started. Bravo, Karl. Bravo.
3. Use-What-You-Have Space Solutions
This is where recycling, repurposing, and reusing steps up to the mic. This self-explanatory section of the book is chock-full of fabulous ways we can maximize our spaces that range from simply adding shelves to fairly large installs. We can definitely benefit from Karl's creativity and resourcefulness via his "use-what-you-have" philosophy and how-tos. It's not only wallet-smart, it's green-smart.
4. The How-To Instructions
Like a true, or more appropriately, fare dinkum Aussie, Karl gets right to the point. Above, we can see an example of an inventive new way to create under-the-bed storage reusing drawers from an old dresser. Fantastic! Thankfully, the project how-tos don't drag us through a wordy diatribe of "over-your-head" technical descriptions and terms. No, in plain English, it's all about what we're going to do, what we need to do it, and how. Wham-bam, thank you ma'am!
What I realized thumbing through the "3-5 hammer" projects was that, though my skills may not be advanced enough to complete these tasks, I did gain the following:
• the knowledge of how more advanced projects are done
• a new appreciation for what it takes to do a larger assignment
• a confidence that if and when I hire a professional, I will be armed with valuable knowledge that could (a) help me communicate more clearly what I need and want, (b) understand the scope of the project and give me a better understanding of what it will take time and materials-wise, and (c) possibly prevent me from being hustled or taken advantage of by an unscrupulous hired hand.
5. Same Place, More Space
Just the concept alone is what I love! One of the top reasons people move, is because they are lacking in space. Funny thing, our dream home could be right under our noses (or, in this case, feet). If we looked at our homes with new eyes, and, with the help of Karl Champley's book, I'm certain we could create something really special that's functional and fabulous. I, for one, am seeing my own closets and cabinets in a whole new way…perhaps I'll blog about it one day! Take it from me, Same Place, More Space hits it out of the park. Oi-oi-oi!
Visit us on our HomeJelly Facebook page and leave a comment telling us what space you'd like to maximize in your home for a chance to win a FREE copy of Same Place, More Space!
A winner will be announced on Monday, February 24, 2014. Go on, now!
The giveaway is now over! Congratulations Joe Harding!
Where to buy the book? Visit Amazon.com to order a copy or two! Price: $18.32 (paperback), $9.99 (Kindle).
Feature photo source: ivillage.com
This post contains affiliate links.