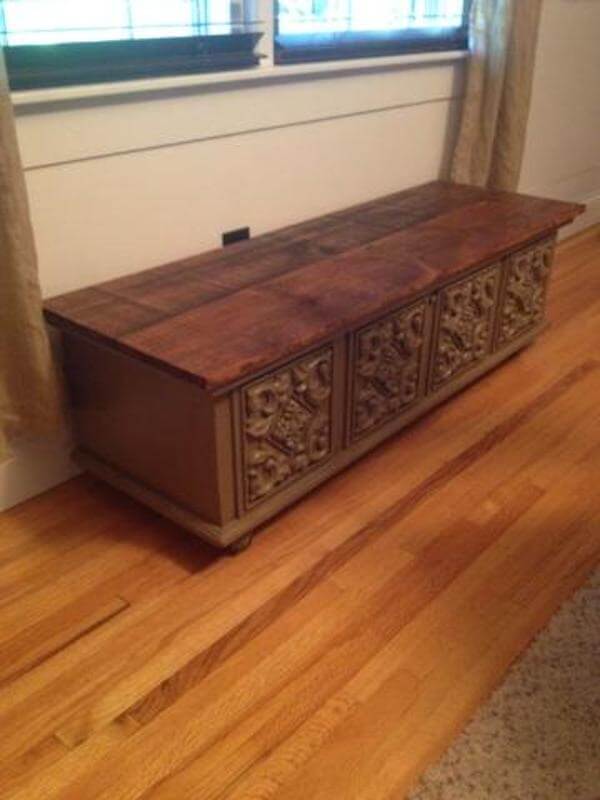 After tearing down their 100+ year old Minnesota barn, my cousins, the Kuphals, were left with a large pile of leftover wood. Their next major renovation was to add on a large, over-the-garage family room and smartly thought they'd reuse as much of the old wood as possible.
So, along with their fabulous new repurposed barn wood garden shed, that was built under the new exterior staircase, they also created other decor pieces as well: a barn beam and siding chandelier and a barn wood TV entertainment center.
I received this description of their projects from Myrna Kuphal, along with some photos of their fabulous work! What a great way to recycle 100+ years of history!
Manny decided we needed some kind of light over each of our window seats, but it couldn't be just any light. It had to "fit" the room for him to okay them. We looked in stores and online but couldn't find what he had in mind. So, he decided to make them. After talking it over with Jim, he decided to use the rafters from our barn for the main part of the lights.
The problem with that was they were very heavy.
See Also: How to Make a Solar Light Chandelier
The top of the rafter was drilled out by Manny and Eli to lighten them but keep the same look on the bottom.
The light fixtures were placed in securely and glued in. Manny didn't like the way the end of the beams looked. The wood here looked new because of the cut. We didn't want to add more weight.
Jim suggested the cedar shingles that we had salvaged from the barn. Perfect! Easily cut to size, light and authentic. Shingles were also used to cover the top were it had been drilled out. Now it looked finished.
We could have used regular bulbs, but Manny's artistic eye envisioned Edison bulbs. The "barn chandeliers" were hung using chain.
Jim added a dimmer switch so we can change the mood of the room.
We are very pleased with how they turned out and that we were able to incorporate three generations in our lights!
Here's a chest with a top made from our barn wood:
I took a few more pics of the entertainment center that is made of barn wood and milk cans that Jim's dad, Richard used in the barn. You can tell because they have our patron number 122 on them.
All photography courtesy of the Kuphal family for HomeJelly