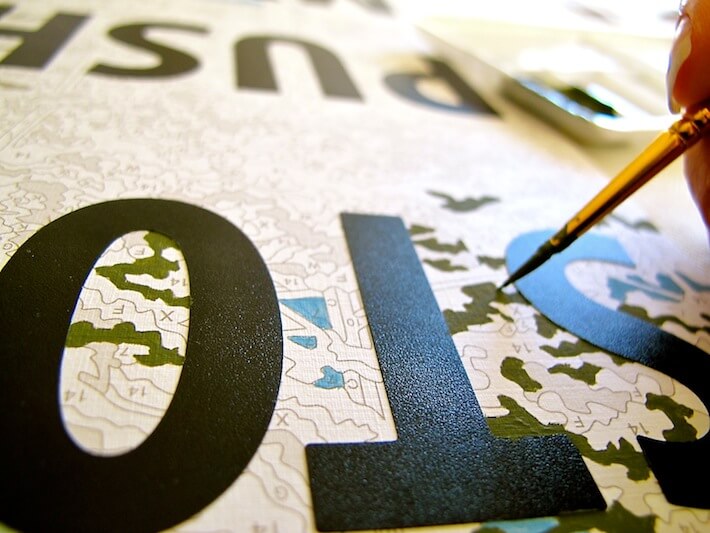 So, my bro-in-law's birthday was about three months ago. I'm quite certain I'm setting a new "low" for the ill-fated term: "be-lated", but as the old saying goes, "Better late than never!" To add an excuse log to this "tardy fire", I've actually been working on his gift this whole time…well, give or take a few weeks. But, as I intended the last time I surprised him and his girlfriend with a refinished old cabinet and beach towel rack, I wanted this to be special. Thus, this paint by numbers lyrical art piece became another labor of love.
As many creatives do, Johnnie has a unique appreciation for unexpected items (one example, garage sale art, i.e. paint-by-numbersesque type paintings). When I heard this, I initially thought I'd pick up one of those "beauties" on an upcoming Saturday, then try this clever song lyric wall art how-to, courtesy of the clever girls over at A Beautiful Mess. But then, I randomly came across a technique that tweaked this idea – so I ran with it.
I decided I'd actually buy a paint by numbers kit and actually do all the painting. I definitely didn't know what I was getting myself into, because it took over 100 hours easy…and that was only one part of the project.
As usual, I wanted to personalize this piece, so I chose one of my favorite lyrics from a song Johnnie wrote. I figured, if he didn't like it, I'd love it and keep it myself (snicker!). Here is a picture of the cassette tape where the original recording of this song lives:
If any of y'all have a cassette player, please let me know…I'd love to hear this song again! Who knew I'd be able to mesh rock 'n roll and paint by numbers? I guess it kinda makes sense…and a one, two, three, four!
Supplies:
• paint by numbers kit – I found my Paintworks kit at Michaels, but there are many you can find online (Paintworks site eksuccessbrands.com, herrschners.com, amazon.com, hobbylobby.com)
• additional paint brushes – it's good to find a few #2 and #3 brushes depending on the detail of your painting.
• paint tray
• stick on letters – I used Helvetica font stickers. Note: make sure to use the non-permanent adhesive kind.
• ruler
• optional: frame and matting
Instructions:
Step #1: Apply your stick on letters. Before painting, be sure to use your ruler to apply your lyrics straight and even onto your unpainted paint by numbers canvas.
Step #2: Begin painting. Tip: start with the lighter colors and be sure to paint around your letters, making sure you don't paint underneath.
Step 3: Keep painting, and painting, and painting. Tip: when mixing colors, paint the actual letter next to the mixed color on your tray so you don't forget what number or letter they are (see the second photo below). Also, only mix a small amount at a time.
Step #4: Remove stick on letters.
Step #5 (Optional): Matte and frame your finished lyrical art masterpiece (eh, hem!)!
I especially love the paint by numbers mapping that shows through. It's a bit quirky and honors this fun and retro hobby art…which now has been modernized into something artsy and fab!
At first, I was a bit concerned that the letters were going to get lost in the painting, making it hard to see them…I stand corrected! Booya!
Happy Be-elated Birthday, Johnnie!
Let us know what you think about paint by numbers kits…have you ever completed one? Might you try something like this? What would your letters read? Do tell!
All photography by Skaie Knox, HomeJelly