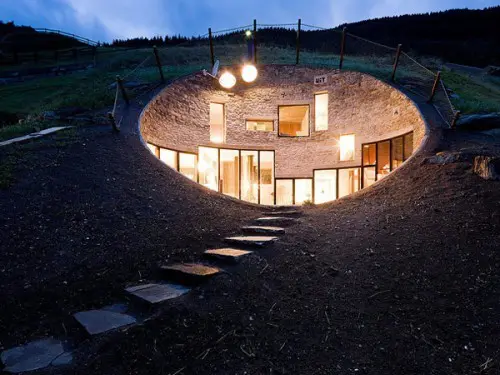 Kiddy tree houses and hobbit holes. That's what comes to mind when most people think of above and below ground living. Well we're here to disprove those assumptions with examples of spaces that are both architecturally beautiful, functional, and greener than your average space.
In most cases the examples below aim to be as green as possible, utilizing recycling and, in the case of the subterranean structures, natural earthen insulation minimizing temperature fluctuations. For the tree structures, they are designed to preserve the host tree(s) and coexist with them as they grow.
The Yellow Treehouse
Developed by Pacific Environments Architects, this restaurant is both an architectural masterpiece and an amazing example of tree living. Shaped somewhat like a giant onion, the 36' high structure sits nearly 30' above the ground perched in a New Zealand Redwood tree. Completed in early 2009, the structure received immediate praise and was booked solid while it was open as a café and restaurant. Now it is available as a private space for events.
Tham & Vedegard Architects Tree Hotel
One wouldn't expect a 12' mirrored cube mounted in a tree to be a nice place to stay, but the architects at Tham & Vedegard aim to prove otherwise. Looking almost surreal, this one-way mirrored cube is almost invisible as it reflects back the surrounding environment. While admittedly cramped for day to day living, the concept hotel makes for a unique weekend for a couple interested in marveling at the 360 views provided by the structure.
Studio Lukaszkos 4TreeHouse
Built around and suspended by four trees, this Canadian treehouse ran its owners appx. $50,000 to build and is suspended 15' in the air. Designed to sway with the trees that they're built around, the home is around 30' in height and has three livable floors. Completed in 2003, the very modern, very livable design has been featured in various design publications and broadcast programs.
KWK Promes 'Green' House
This home is not underground per-se, but it incorporates earth throughout the space to both insulate the home and blend it into the environment. From certain angles it looks almost like an extension of the ground, while from others it simply looks like any other modern home.
SeARCH & Christian Muller Architects Swiss Partially-Underground Home
While built in the classic "hobbit-hole" style of digging into a mound or hillside, this amazing property makes no compromises when it comes to modern living. Hyper modern with rustic touches of old stone and earth, this residence is like a futuristic version of ancient earthen dwellings.
Proposed New Zealand "Bunker" Home
With approval granted in June 2009, construction will soon begin on these subterranean "bunker" homes which are designed to be invisible additions to a golf course development in Queenstown, NZ. With floorplans up to 7,500 square feet, these will be quite luxurious, despite being largely buried in the hills and fairways of the course. While no definitive details have yet been released, this artists conception of the home shows they are likely to be quite green, and strikingly designed homes.
The Silohome
Taking reuse of existing facilities to a whole new level, this home is built largely around a converted Atlas-F missile silo, a remnant of the cold war left in the Adrondack State Park in New York. While it might seem like a sterile and even scary place to live, the home is actually quite luxurious and absolutely gigantic. With over 20,000 square feet of livable space its size rivals any mansion one would come across, and includes a surface portion as well to get some sunshine. Featuring a private airstrip as part of the accommodations this home is definitely one for the eccentric. It's also quite green – due to its depth it remains a comfortable temperature year round with no heating or cooling, and of course the re-use of the structure cuts down on building materials. Oh, and it can survive a 1 megaton blast from a distance of 1 mile, making it about as secure as you can get.
Photos courtesy of atomicpr.com.