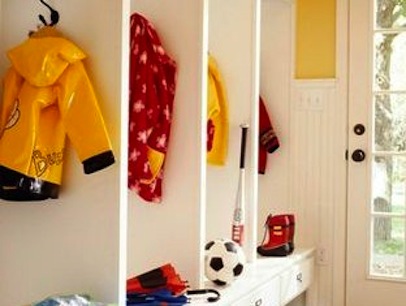 This weeks syndicated blog explores a room we often overlook, our entryway. It's the first room that guests see and experience, and is often the catchall area for keys, bags, coats, shoes, backpacks, etc. With summer-time visitors frequenting our doorsteps, kids and their friends coming and going, as well as other assorted activities to get to and from, it's the perfect time to spruce up this welcoming, functioning portal. Thanks to thedesignfile.net we can learn some great tips to creating the entryway that best represents how we wish to say "hello" to visitors and how we can utilize this space for practical purposes.
Posted 04/16/2010 by The Design File
A place for stuff: Creating a practical entryway
Last week, I previewed the upcoming 2010 Decorators' Show House and Gardens in Indianapolis by showing you the "before" pictures of the event home's family entryway, which will be remade by Amy Peltier of Peltier Interiors.
It made me think about the importance of creating a practical entryway — even if you have an especially small space.
After all, everyone needs a place to hang a coat, put on boots and drop mail and keys. But not everyone has the space or money to have a fancy mudroom like the one at right, which I found at Better Homes and Gardens.
Instead, most homeowners have to make do with a tiny foyer, a back hallway or a living room wall just inside the front door.
So how do you make the most of it?
I think the photos below — which came from MyHomeIdeas.com, photos by Gemma Comas — are a great example.
I love this little table, which has space inside to store scarves and a purse and a drawer that's been made into a fantastic charging station for mobile gadgets. You can make one too by mounting an electric strip on the back of the drawer and drilling a hole in the back of the drawer to run the cord through.

It's great to have some storage underneath for mail and papers as well the shredder to immediately get rid of what you don't need. And of course, the and the mirror are perfect. There's no place to hang a coat but a couple hooks on the wall or a coat tree would solve it!
The pieces at right pack a lot of practicality into a small space as well.
This small bench (another BHG photo) with a basket gives you a place to put gloves and small accessories as well as a place to sit down. The small shelf and hooks above offer a little bit of space of a jacket and purse.
And the table and mirror are a perfect spot to grab the keys and put on some lipstick as you're running out of the house.
Plus, you can style the cushion and the table accessories so they provide a sort of introduction to your home's style.
If you need lots of storage for hats and gloves and scarves and other items, you might try a dresser or buffet.
I love the one in the BHG photo below. Look at all that storage! Plus, the chairs and the mirror add to the practicality and you can toss your keys onto the plate on top.