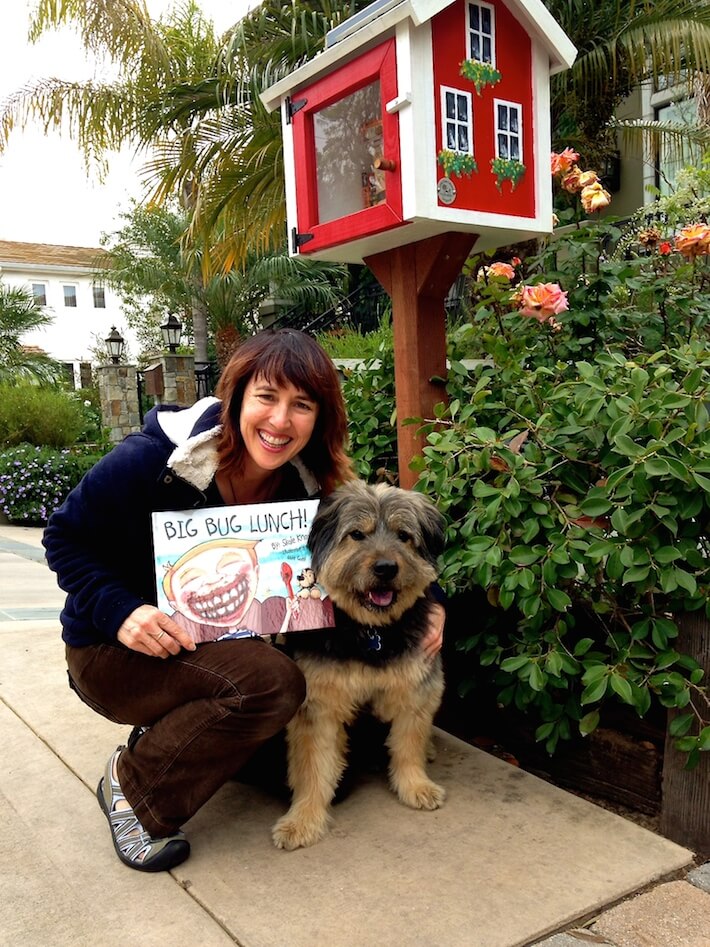 On a recent Klunkers walk in my neck of the woods, Manhattan Beach, I was delighted to discover this nifty little mini-house filled with free books! At first, I thought it was a quirky mailbox, but quickly realized it was a neighborhood library. I knew y'all would appreciate its aesthetic, social and educational attributes, so I snapped off these photos to show you. Back home, after taking a second, closer look, I noticed this small, coin label on its side wall that read, "Little Free Library Original".
I was instantly intrigued, so I googled it to learn that the Little Free Library is a non-profit organization that's gone global! Book enthusiasts from all walks of life and ages are creating hand-made, repurposed, and/or posting pre-fabbed mini-libraries where neighbors can take a book and/or leave a book, resulting in exchanging and sharing some of their favorite literature and stories. These wonderful and free libraries not only promote reading, they encourage neighbors to gather, gab, and get to know one another. I love it!
What also tickles my DIY fancy are the fun and fabulous attention-to-detail designs and micro architecture that houses books for children and adults. These Little Free Libraries have unknowingly inspired how-to neophytes to pick up a hammer, drill and paint brush to create the most lovely, little literary dwellings. Every one is water/weather proof and can be made with anything from a wooden box, a repurposed bird house, even an old microwave oven! Learn how to build your own and/or see what others have constructed.
I thought I'd join in on the fun and donate "Big Bug Lunch!", a book that stars none other than our HomeJelly mascot, Klunkers!
To find out where you might be able to find one of these book-filled buildings in your neighborhood, or, to create and place one in yours, visit LittleFreeLibrary.org for lots of information. There is a world map where participants have registered their libraries and where you can, too. For now, take a look at these fantastic, hand-crafted doppelgängers that add a smart quirkiness to their neighborhoods and tell a story all their own.
Top four photos by Skaie Knox, HomeJelly. Bottom five photos courtesy of Little Free Library's Pinterest board "Doppelgänger Libraries".