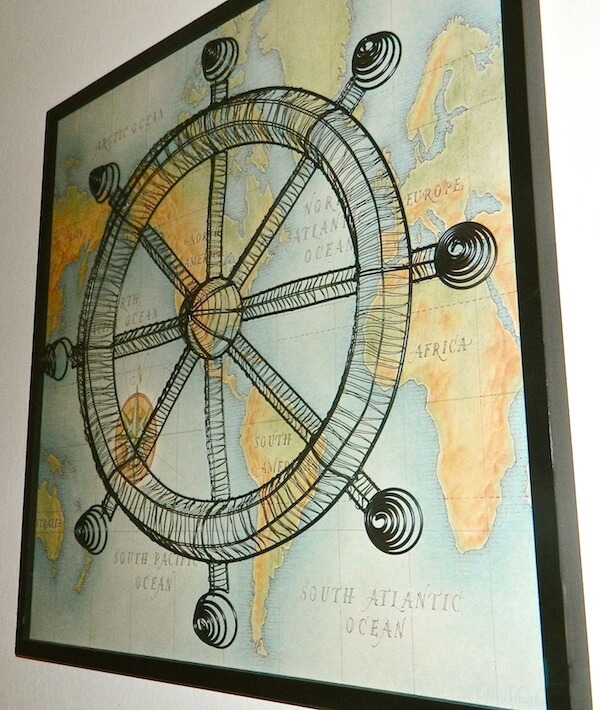 Irrespective of whether you have traveled the world, decorating your home with worldly inspired décor is a great option. You can show your love for different cultures through the decorative displays that you choose. No matter where your favorite locale is, consider some of these do-it-yourself projects for around the home.
#1. Chalkboard Globe
If you enjoy, or like to be organized and write down important events, consider creating a chalkboard globe. It doesn't take much to create – you simply need a globe, chalkboard paint, and some chalk. It's a good idea to have different colored chalk so that you can color in different spaces. Simply paint the globe with the chalkboard paint. This is a fun project that can also be used as a learning tool, allowing you to teach your children more about geography.
#2. Worldly Color Palatte
You can get worldly décor inspiration simply by looking at the prominent colors used in different countries. Using color palattes and themes from your favorite countries is a great way to add international flair to your home. Do you love Japan? Red and black make for a sophisticated and beautiful combination. If India is your preference, go with deep purple and gold. Finding inspiration for your DIY projects doesn't mean you have to put a lot of time into the project. Adding the right color scheme helps improve the look of your home.
#3. Turn Old Luggage Into New Furniture
Do you have a bunch of old luggage sitting around your home? These are pieces that received a lot of love back in the day, but today you've upgraded to something newer that fits your needs a little better. Don't throw out your old luggage. Instead, turn it into something beautiful and new. There are several projects you can do around the house with an old luggage piece.
space
First, consider turning that piece into a side table by simply stacking them, or create a unique coffee table. If the luggage is still in good repair, add a leg to each corner and use it as a table. This can be used in the living room or even in the entryway as a place to store jackets and more. You can even add a glass top to the table if you don't want the luggage ever opened again.
Another option is to cut pieces off the end of old luggage and use it on the wall as a shelf. This makes the luggage a display piece itself, and also helps you display other tokens of your travels.
#4. Create Unexpected Shelving
If you don't own any old pieces of luggage you can try looking at your local thrift store. If you still can't find that perfect piece you can find pieces of furniture, such as bookshelves, that correlate with the theme. Keeping it simple is also a possibility by sprucing up shelves and bookcases with trinkets from your travels.
#5. Use a Map to Update Furniture and Art
If you have someone in your house that loves to travel, consider creating a map dresser for them. This is not a difficult project, but requires several maps. Using the pieces of the maps, cover the drawers of the dresser. You'll want to use something like decoupage glue to ensure that the pieces don't come off.
Using maps is a great way to decorate an inexpensive piece of art. You can choose a map from your favorite location or one of the whole world. You can frame the map and simply hang it or you can add more details such as taking wire and making your favorite shape to compliment it. Another possibility would be to paint your favorite motto on it for daily motivation.
Decorating your home with worldly inspired designs allows you to have fun with your home decorating. Put a bit of your life experiences into your designs and you'll have the opportunity to relive some of your favorite moments every day.
Have you uniquely used maps in your home? How?