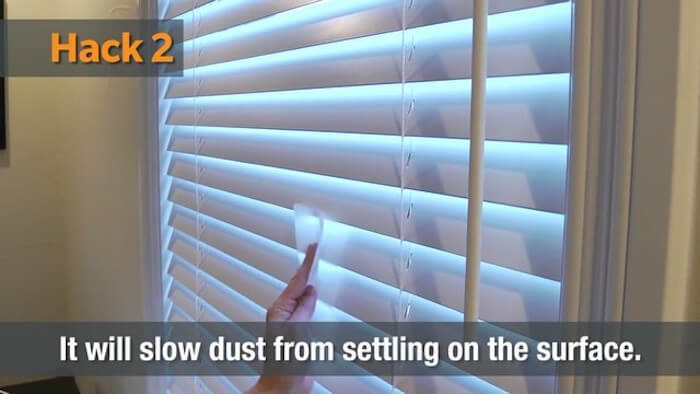 Fall is the perfect time to do a second pass at spring cleaning before the holiday season. To get us started, today's video demonstrates 3 home hack ways to easily clean our blinds – wood, plastic or metal.
HACK #1: Spray a vinegar/water solution onto an old sock and wipe.
• 50/50 vinegar and water is perfect for cleaning blinds and even cabinet doors. I love this post that lists all kinds of cleaning ideas using vinegar.
HACK #2: Swipe blinds with a dryer sheet.
• The material of the dryer sheet will cling to dirt and dust, making this chore super simple! It will also slow it from settling on the surface which will decrease the frequency you'll need to clean them as well…boom!
See also: 5 Useful Uses for Lemons Around Your House (video)
HACK #3: For a deep clean, use a bathtub.
• Use warm water and dish soap.
• Swish the blinds gently, rinse and let dry before re-hanging.
Now it's Your Turn!
Got any home hacks of your own? Share your smarts in the comments below…thank you!