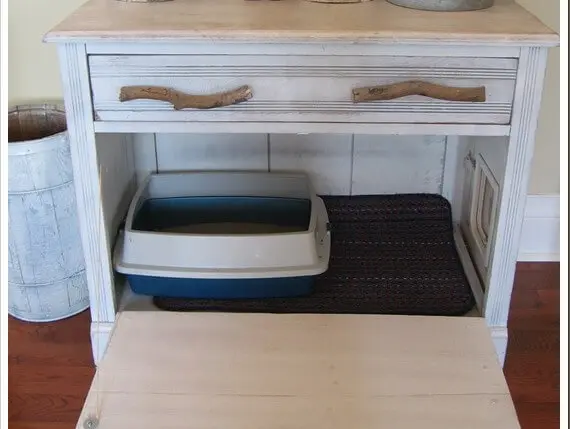 I must admit, I'm not much of a cat person. I was inspired to write this blog because my brother-in-law Johnnie recently asked if I could help him solve a common small spaces dilemma: how do you place a litter box in a home that has no utility or laundry room? The answer: disguise it in a piece of furniture!
Below are three different ideas with varying levels of DIY know-how. You can customize a cabinet kitty loo to work aesthetically in your home by using a piece of furniture that complements your current decor, paint, and/or hardware. The good thing is, all these projects are inexpensive and possible to complete by weekend's end. Soon you and your cat will be skipping to the loo!
Here's what you'll need:
An old cabinet or small dresser-Check DiggersList, a local Habitat ReStore, or your neighborhood garage sale. NOTE: For project #2, a FAKTUM wall cabinet and Applåd white door from IKEA was used.
2 Hinges-Project #1, use any type you wish; Project #2 use the Integral hinges from IKEA.
screw driver or drill
screws
hand saw or jigsaw
litter box
self adhesive vinyl roll, carpet piece, or vinyl place mat to line inside cabinet
vent plate
Specific to Project #1:
liquid nails, or wood glue
1/4″ plywood to fit drawer front space
Specific to Project #1 AND #3:
sanding block or hand sander + sand paper

primer and paint
Here's what you do:
Click onto desired project below for complete how-to instructions.
Project #1: Recaptured Charm (see also two top photos)
Project #3: Cat Tree Furniture (pre-fabbed kitty loo)
NOTE: Project #3's kitty loo has been included as inspiration. Because it is a pre-fabbed piece, I thought I'd include instructions here:
1. Find a similar cabinet with double or single doors (as shown above).
2. (Optional) Sand, prime, and paint to coordinate with your current decor and color scheme.
3. Using your hand saw or jigsaw, cut an opening for your cat flap and vent plate. (see example above for flap placement). Note: if your vent is placed at the back, be sure to allow space from the wall for air to flow in.
4. Install cat flap.
5. Install vent.
6. Place down vinyl or carpet piece and litter box.
7. Extra optional steps:
change out hardware to add even more bling to the piece.
Cut another hole on the side(s) to add light for your feline friend.
Do you have a kitty loo? We'd love to see your photos! Email them to: [email protected] .