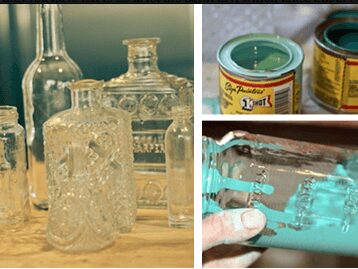 Sometimes there's a little corner of the weekend that's perfect for a quick project. Well, I recently found a fun one for those of you looking to add a touch of loveliness to your home's decor. With so many spring flowers booming with blooms, it's nice to collect them in equally colorful vases. Thanks to graphic designer, photographer and blogger Audrey of oh so lovely, you and your flowers will be feeling the same after following this easy how-to.
Here's what you'll need:
a collection of unique and beautiful clear bottles (interesting spaghetti, pickle and canning jars would work, too!)
2 small jars of enamel paint, any color you wish (make sure it's specifically used for glass)
rubber gloves
Visit oh so lovely for full DIY glass vases how-to.
Q. What color would you paint your glass vases?