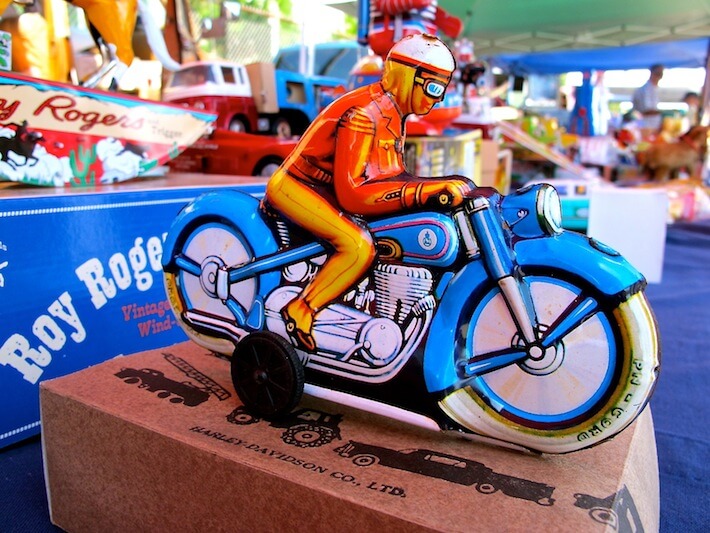 I was both skeptical and excited to finally visit the Long Beach Antique Market, which is open every third Sunday of the month. You never know if you're gonna end up finding mostly unattractive junk with no character, but upon entering the gates, my friend Andrea and I felt as if we had just passed through the black and white doors of Dorothy's house and into the technicolor world of Oz! Thank goodness I was on a mission to find a specific Danish mid-century modern, round table…I could have easily spent the money I had snugly stashed away in my purse on the first aisle of vintage treasures. This realization, I discovered, began my list of tips to consider when shopping at a flea market:
Have a specific "what to buy" list – do not waiver from your mission!
Bring cash – this will increase your buying power (vendors are much more willing to negotiate when you've got the "green" in hand).
Ask the "asking price" for the item you wish to buy, then offer a lower price. More often than not, you'll be able to get the seller to come down at least 10-15%.
Shop towards the end of the day – the overall inventory of the market may be less, but if you find what you want, a seller may be more willing to let the item go for less than he/she would have earlier in the day.
Bring a vehicle large enough to load and carry your new finds! This seems a bit obvious, but I did notice some folks scratching their heads in the parking lot with a table they had purchased, wondering how they were going to get it home.
My favorite vintage flea market finds…
This very unique vintage Royal typewriter is a wonderful home decor accessory for any home office, nook, or shelf. For a fun repurposing typewriter idea, visit Poetic Home.
There were loads and loads of these beauties, with prices that varied…this one was about $35. These can be used as a unique potted plant holder or a place to elevate a lovely tray or plate for serving cake or cookies. Here's a great idea to repurpose one of these character-filled scales into a clock…visit Recreate.
All I can say about this chair's comfort is…butter! There were two available for approximately $100 for the pair…a darn good price. One would be great as an in-kitchen office chair or both as seating for a small dining table. Seriously…butter.
This clever seller did double duty repurposing vintage items into this fabulous fountain.
I've always said I'd like to start a tin toy collection…they can add such fun and whimsical "eye candy" to a home. This piece was priced at about $45, most likely because it's a Harley Davidson. For some clever ideas on how to display your collections, visit Design Sponge.
I fell in love with several furniture pieces like these two vintage dressers above (thank goodness for my "what to buy" list…and a heaping dose of disciplined temptation!). Their prices ranged between $150 and $300, respectively…I think I could have really bargained them down, being that it was almost quitting time…but, no! On to finding that much needed Danish MCM dining table…!
Oh, ya gotta love finds like this! Mimicking the style of the Arts & Crafts movement, this colorful and humorous tin rooster almost bought himself a ticket home with me. I was so taken by him that I snapped off this picture and ran…the temptation was just too much to bear!
The one fantastic "x-factor" of going to flea markets is never knowing what you'll find. These vintage and unusual net chairs were surprisingly comfortable and actually quite chic. Their graphic and retro vibe would certainly add flavor to any space!
Savvy sellers are catching on. There was a plethora of crates and jelly jars available for sale which is good for us DIYers! I love this very cute repurposing project that would be wonderful to find under the Christmas tree…visit Mostly Madeline's.
What's the best thing you've ever bought at an antique flea market?
Photography by Skaie Knox, HomeJelly.com