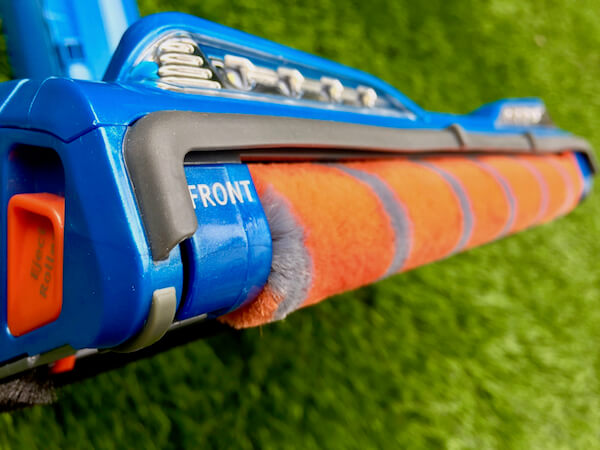 As a home decor/design/DIY blogger, I'm often approached by brands to sample their latests goods and gadgets. When SharkNinja asked me to try out one of their vacuums, I thought, "Why not? I've gotta clean my house anyway, so why not with a brand new Shark Powered Lift-Away NV800?!?"
Like that girl swimming in the ocean during the opening scene of Jaws…I had no idea what was coming.
Admittedly, I had read that Shark vacuums were one of this year's highest rated machines around (price: $299.70 – free S&H, plus a free gift when you buy directly from Shark). For years, I've used hand-me-downs, and the prospect of a "top shelf" model made this home decor nerd all tingly!
Again, I had no idea what swam beneath me…
Opening the box, I soon found myself revealing piece after piece like a Russian nesting doll.
"Oh, God. What did I get myself into?"
When it comes to gadgets, simple is how I roll. This one vacuum, once completely laid out on the floor, had 8 pieces to assemble.
Duunnn dunnn… duuuunnnn duun…
So, I thought.
With a quick glance at the enclosed "Quick Start Guide", I braved the assembly waters and began click-attaching piece by piece.
It was SO easy! AND fun – like a motorized Swiss Army knife! Yep. The only shark here was the one in my hand. And…with the flip of the "On" switch…it absolutely SUCKED!
…all the pet hair, crumbs, outdoor dirt, beach sand, and dust.
And it did bite into the dirt like a feeding frenzy. Thanks to the rotator-powered vacuum head, it glided and maneuvered around my furniture like a shark in water.
Hey! I just got the name!
Top 3 Likes:
1. The EASE of assembly. Each piece clicks IN and OUT of place beautifully.
2. The VERSATILITY of how to clean. You can use this vacuum in the following positions:
a. The Upright Mode: for easy push-pull vacuuming.
b. The Handle Mode: for close-up cleaning of furniture, dusting shelves, car dashboards, tabletops, etc.
c. The Wand Mode: for high and hard-to-reach spaces like vents, window sills, fan blades, or even stairs.
d. The Lift-Away Mode: for reaching under sofas, coffee tables, taking out to your car (with a long extension cord, that is), up and onto stairs, under beds, etc.
3. The Swiss Army of Capable Cleaning. Seriously. I've never used a vacuum (or heard of one) that gave the user so many easy and accessible ways to clean it. Here's what you can do:
a. Dust Cup Release – top and bottom: allows you to dump whatcha just vacuumed, along with removing built-up debris.
b. Clean filters – foam, felt and HEPA: by removing the dust cup, you can easily remove the foam and felt filters to then rinse with water every three months or so…that's it! The HEPA filter is accessed under the front grill with an easy press of the button. So fun!
c. Brush roll – they even have a GARAGE and cleaning tool for this! Crazy! With a simple pull of a tab, this hard brush roll can be removed, cleaned then replaced within seconds.
d. Soft roller – a push of a button allows you to remove this soft roller for cleaning and rinsing and even removing built-up debris and dust up and under the roller housing. Very thorough!
Top 3 Dislikes:
1. The Wrap-Around Power Cord: this would be my top beef on this Shark. I've come to totally appreciate retractible power cords, especially when I'm in a hurry to put my vacuum away.
Yes…I'm one of those last-minute cleaning hostesses…"OH! Our guests are coming and I'm not finished vacuuming the floor!"
2. The Hard-to-Extend-and-Retract Attachments: I don't know if I'm just not getting it, but I can't seem to retract the duster crevice tool. Arg! And, though, I was able to eventually figure out the 18″ flexi crevice tool – it's still a bit challenging to use. NOTE: I had my hubby, Matt muscle the duster crevice tool – after a few open-and-closings, it became easier to extend and retract. Extra NOTE: there are two other attachments that don't attach to the machine for storage – I wish I didn't have to find a place for it in my closet…they might easily get misplaced and lost.
3. The Balance: when this model is not in use and just standing, its balance is a little unstable. I'd probably want to lean it against a wall with doggies running around the house.
Buy It or Deny It?
I'd buy it! With so much versatility and the ability to keep this machine clean, the positives way outweigh the negatives. You'll appreciate and discover new uses for the Shark Powered Lift-Away NV800…so dive in…the water's fine!
I've teamed up with SharkNinja to test out a product sample which I was given to use in this post – my personal opinions

are completely my own based on my experience. I wouldn't have it any other way!