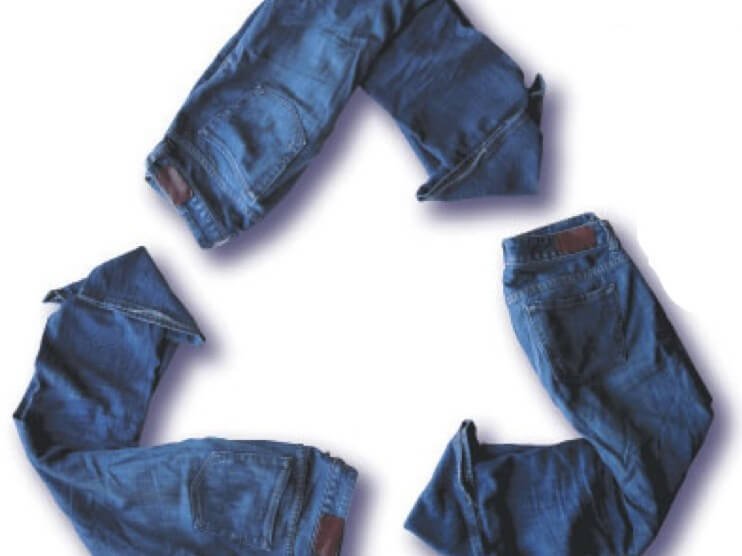 The new year is a great time to organize and make our homes spiffy. Sorting, purging, and donating can be quite cathartic when the end result is a clean, cleared, and clutter-free space.
The only problem? The leftover torn and stained clothes and old worn out shoes and blue jeans I was preparing to simply throw away into the trash left me with nagging "green guilt". I realized there must be another alternative to adding to the over-burdened landfills. DiggersList has helped prevent tons of home-improvement-related waste from ending up there, why not my clothing as well?
You see, a big part of organizing our homes involves sorting through pounds of clothing, which according to an article titled "EarthTalk: Recycling Worn Out Clothing." on thegoodhuman.com, "Ninety-nine percent of used textiles are recyclable." The article goes on to report, "According to the non-profit Institute for Local Self-Reliance, textiles make up about four percent of the weight and eight percent of the volume of all municipal solid waste in the U.S."
Here are some great ways to recycle clothing that is over-worn, stained, ripped, unwearable, etc., and turn them into building materials to extend its potentiality indefinitely:
Goodwill & Salvation Army: These charities accept unusable clothing, and give them to textile recyclers (NOTE: To give them a hand, please pre-sort and bag up your usable from unusable clothing, and mark bags accordingly). Clothes then are often made into mattress filling, carpet underlay, and upholstery, among other items. Visit their websites for pick-up scheduling or drop-off locations near you. Photo courtesy of nakedbinder.com.
CottonFromBlueToGreen.org: This hard-working non-profit uses old/used blue jeans/denim and recycles them into insulation, then donates this new material for homes built by Habitat for Humanity. Visit their website for more information, and how/where to donate your denim (NOTE: currently, there are no denim drives scheduled, stay tuned and check in to their website for future events). Top and thumbnail photo courtesy of CottonFromBlueToGreen.org. UPDATE: this site is NO LONGER accepting donations.
Nikereuseashoe.com: Nike developed this program that takes the rubber, foam, and upper material of a shoe, separates them, then grinds them up to be recycled into rubber running tracks, fabric padding under basketball courts, and foam surfacing for tennis courts and playgrounds. Visit their website or call a local Nike outlet for shoe drop-off and donation information. Photo courtesy of hamptons.com.
Have you ever heard of these programs? If not, what do you think?