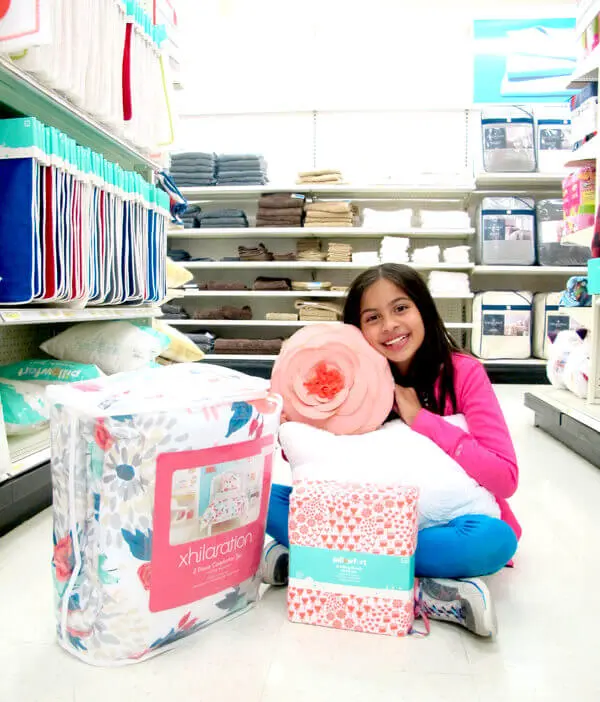 Call me biased, but I absolutely believe my nine year old niece, Katie Dellota, has quite the eye for kid decor.
During a recent visit to my brother's home in Colorado, we decided to do some holiday-shopping recon at Target. After rambling through the aisles packed with Legos, Shopkins and oh-I've-just-got-to-have-EVERY Star Wars collectors' figurines, Katie requested we head over to the kid bedding department.
"I really want to redecorate my room!" she exclaimed.
Um. Hello! How excited was I to hear THAT?!?
So, with a twist of my rubber arm, off we went.
Katie's Picks!
Within seconds of arriving, we were surrounded by pillows, lamps, duvets…oh my! "I love this pillow. And this! See how this flower pillow matches the flower in the bear's hair?" Katie so keenly pointed out as she excitedly began pulling and gathering perfectly coordinated items.
Ah. My home decor padawan.
I wanted to know what was behind Katie's design ideas while she created look after look.
HJ: What do you like most about Target's bedding and accessories this fall/winter season?
Katie: I love the colors and softness. They are just fun!
Well, that's for sure! Fall and winter is a wonderful time for pastels and delicate-like-a-snowflake textures. Take a look at more of Katie's favorite picks:
HJ: If you could tell other kids what one special decor item they should include in their bedroom, what would that be?
Katie: A fun cozy comforter.
I SO agree with that. Once you have a great comforter (especially with different, two-sided patterns and colors for versatility) you can really build your room's decor around it! Take a look at what Katie chose around this fun comforter:
This beautiful floral comforter can be layered with patterned sheets and cute 'n coordinating pillows. Think texture and unique shapes – they definitely add interest and fun to your room.
HJ: Why do you think it's important to decorate your bedroom?
Katie: So it looks nice and clean and reflects my love of fun things.
Yes! This is such a great way for kids to express themselves and their own unique personalities!
This speech bubble pillow adds instant fun and personality!
Decor Tip: always have two sets of sheets per bed to make changing bedding for washing instant and easy! Additionally, you can have fun with different patterns that match your duvet or quilt. Fun!
Like a true designer/stylist in the making, Katie thinks about bedding that would work for both boys and girls. This alligator bedding collection caught her eye and would absolutely delight any child!
Uh, yeah…I almost went home with that stuffed ali!
Thank you to my wonderful niece and her family for contributing to HomeJelly. I just love your design ideas and know my readers will, too!
All photography by Skaie Knox, HomeJelly