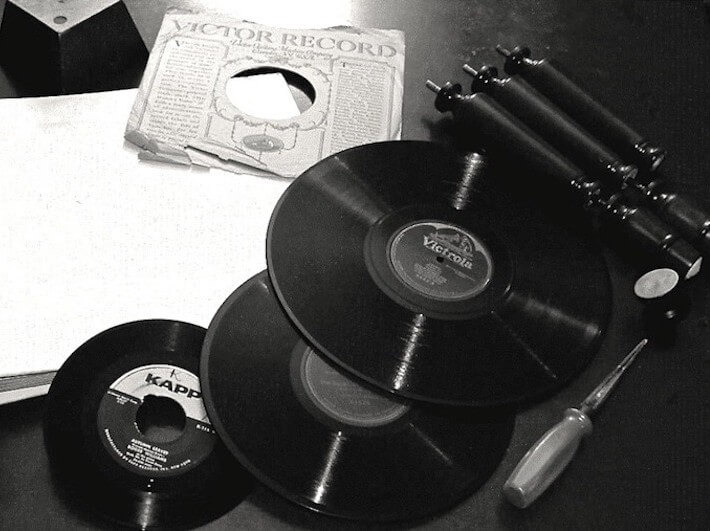 Charmingly Retro Wedding Cake Stand
From the moment I first held a Victor record I had been envisioning the crafting possibilities. You may have seen them before and dismissed them as outdated or unusable vinyl LPs; however, if you were to hold one you would know immediately that it was no ordinary record. Rigid, weighty and often one-sided, they were the original records for a phonograph or Victor Talking Machine
and can be more than 100 years old.
Here's what you'll need:
Vinyl records in various sizes – Victors/LPs are sized by their RPMs (see next photo).
Reamer or Dremel rotary – to enlarge record hole for stand's fittings if needed.
Milled wooden chair leg(s) – the type that are pre-threaded and screw together to allow space for a support bar will instead allow space for your record. It was a fall vineyard wedding so I kept the honey tones of the wood which contrasted the black vinyl gorgeously.
Note: if you do not find furniture legs to your liking there are cupcake stand fittings available in kits online. However, these do not allow you to have a flat top tier for a wedding cake.
Furniture feet for the base: or you can choose to have your bottom record as the base.
Sturdy piece of plastic and a wood screw to brace the top tier/45 rpm record to support a 6" cake.
Here's what you do:
1. Clean all of your surfaces with food-safe wipes.
2. Screw together furniture leg to base and check height. Is it sufficient or too high for the couple to cut the cake? Does it feel sturdy, or does to the base need to be broader/heavier?
3. Place empty cupcake sleeves on the stand and count to see if all of your cupcakes fit. Check to see if you will need to create matching auxiliary stands (see photo).
4. For the auxiliary cupcake stands I simply placed a Victor 33RPM record onto a tapered square furniture leg and secured it with a metal washer and a wood screw. Note: you can decorate the metal washer to mimic a record "spacer'", or cover it with a vintage piece of jewelry to hide it if you choose.
I arranged the three auxiliary stands so that they just touched under the central stand for added support of the wedding cake. This proved unnecessary as the wooden base and stand held resolutely despite the blustery October weather.
Finally I placed additional 45 RPM records about the table to fill-in the space as well as display the remainder of the 108 cupcakes for the guests. Truly a Mad Men worthy wedding centerpiece!
Check out Kristii's other repurposed cupcake display for your holiday parties.
Do you have any fun repurposed cupcake stand ideas like this one? Share please!
All photos and repurposing project submitted by our friends at:
For more information please email their repurpose team at [email protected].