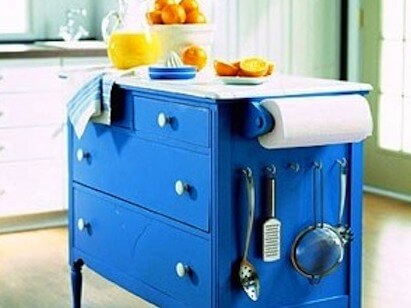 I was so excited when I came across this repurposing idea from Small Place Style; I had to share it with you "DiggersListers" immediately. This simple how-to is stylishly fantastic and you can customize its look, color and functionality to your personal style. Perfect for extra storage and counter space, this adorable dresser island conveniently accommodates small spaces, and, for those of us who rent, is easily movable! Po'okela!
Here's what you'll need:
Granite slab (ask vendor for any leftover pieces and have them cut to your dimensions)
sand paper/or hand sander

paint brush

caulk gun

small hooks (5-10)

Paper Towel holder
Here's what you do:
Clean and sand all surfaces of dresser you wish to paint (exclude top). Wipe clean of dust.
Paint dresser, including paper towel holder if desired.
Using caulk gun, apply the silicon adhesive to the top of dresser (do not over-glue).
Carefully place the granite onto the countertop, making sure it is evenly placed (the silicon will cushion and help to level the marble). Allow to dry.
Mount paper towel holder and screw in hooks.