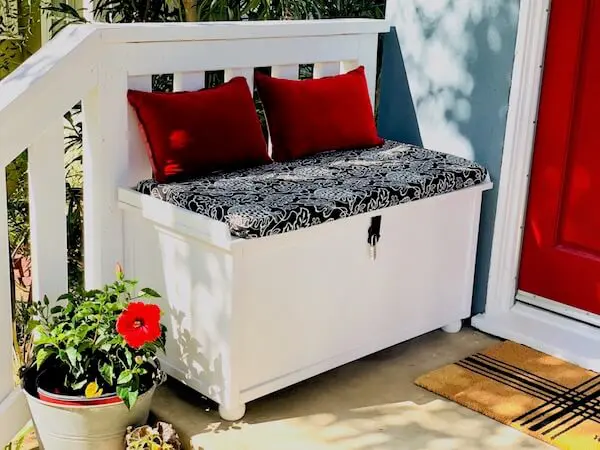 This is a sponsored post and contains affiliate links.
This past week, I took the English proverb, "Necessity is the mother of invention" to heart when I custom built my very first box bench and, at the same time, christened my new Kreg Jig R3 as part of the Kreg's holiday campaign. For years, I've wanted to install a bench on our front porch, but never got around to it.
Watch How To DIY a Porch Packages Lock Box Bench!
[mv_video key="zsqfbrgbxd5knecvjdnx" sticky volume="70″ aspectRatio="16:9″ title="DIY a Porch Packages Lock Box Bench" thumbnail="https://mediavine-res.cloudinary.com/video/upload/zsqfbrgbxd5knecvjdnx.jpg"]
Now that the holidays have passed, I thought it would be prudent to get crack'n on this box-with-a-lock bench.
We're gonna be one step ahead of you, Porch Pirates!
Admittedly, I'm a newbie to jigs, but not to DIYing. Still, I wanted to create something special for y'all, so I asked my handy-with-tools Cousin Tom to join in on the fun. We both had a blast using my new Kreg toy creating several no-you-can't-see-any-screw-head pocket holes and ended up adding some finishings that resulted in a beautiful porch packages lock box bench. It was fun to make and now even more fun to use.
Give this project a try! You'll love the comfy added seating, as well as a little peace of mind that you've built yourself a little "porch packages" security.
Supplies:
(1) 4'x8' sheet of exterior sanded plywood
(1) 6'x1 ¼" corner moulding
(2) 7'x 1 ¼" flat moulding (trim)
(1) 7'x ¼" pine screen moulding
(1) 9'x ¾" x 1 ¼" pine board
(2) 4" gate hinges
(4) heavy duty top leg plates
(4) 2 ½" x 1 ½" round bun, wooden foot table legs
(1) safety hasp
(4) eye straps
(1) 36" nylon cording
(4) ⅝" wooden beads
• ¾" , 1" and 1 ¼" brad nails
• P60 and P120 sandpaper
• wood glue
• exterior paint and primer
• exterior polyurethane
• exterior lock
Tools:
• drill
• clamps
• paint sprayer
Instructions:
For FULL how-to instructions, including CUT LIST, tips and photos, visit our Porch Packages Lock Box Bench plans on Kreg's buildsomething.com.
Watch the video tutorial!
Delivery Lock Box Request!
You can now request that your delivery person leave packages inside your box, then lock them in!
Note: this box was designed to help keep amateur porch pirates from stealing your stuff. Nevertheless, this smart and somewhat lofty effort is no guarantee. Still, it's better than nothing at all, right?
BE SURE to SECURE your box bench via wire cable or screw into the side of a railing.
PIN IT!
If you love this project and would like to save it to DIY now or later, pin it to your board!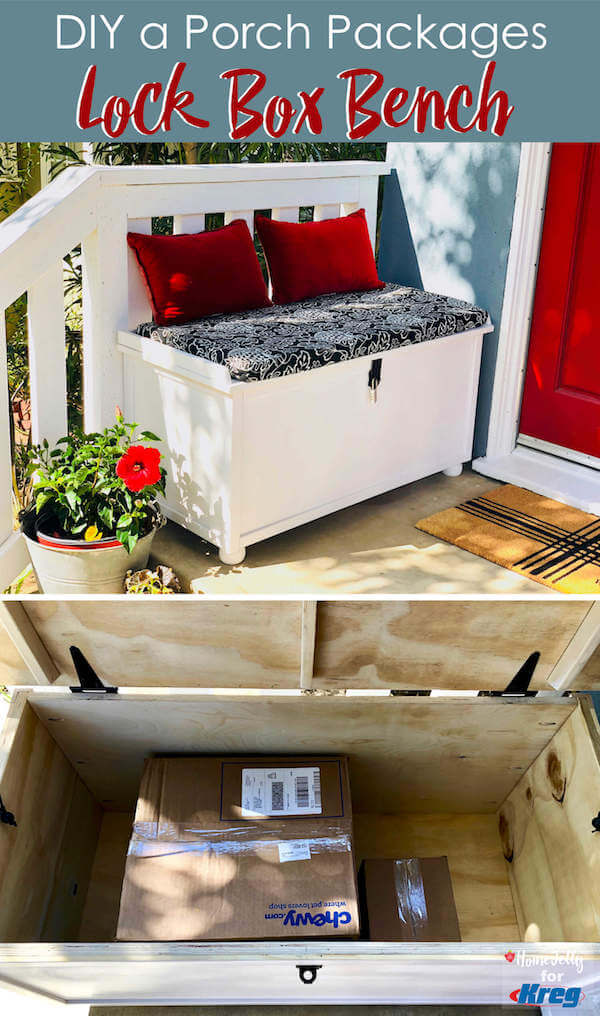 This post was sponsored by
We've teamed up with Kreg Tool to create this fun how-to for their buildsomething.com site. We also received compensation and a Kreg Tool product sample to use in this post and have included affiliate links to the tools and supplies I used in this project which helps fund these free posts and projects. My personal opinions are completely my own based on my experience. I wouldn't have it any other way!