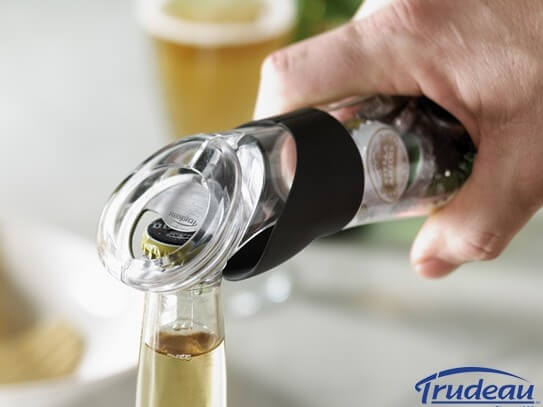 Oh, the good ol' days of careless hours playing "caps" with friends, freely flipping those tiny tops of crimped steel into red plastic cups. Now, for the many of us who no longer flip our lids for game or sport, there is a new, practical and fabulously functional gadget that eliminates the "beer bunnies" typically left on kitchen counters, bar tops, floors, or even under sofa cushions.
Today's featured "DIY Goods, Gadgets, and Gizmos" is the "Cap Catcher", a bottle opener, bottle cap catcher (hence, the name!), and holder of up to 30 caps, all in one. Instantly, I said to myself, "Yes! No more picking up stray caps left in the kitchen or finding them underfoot in the backyard from that party three months ago!" In fact, this cool home goods gadget is perfect for parties where guests can help themselves to a beer (or capped root beer) all the while keeping things neat and tidy for easier after-party clean-up. It also makes for a fantastic hostess/host gift, especially for game night and all those BBQ parties coming up this summer.
According to Industrial designer, Stefano Di Lollo, this latest creation for the Trudeau Corporation came to him while brainstorming in a trendy coffee shop in downtown Montreal, and like many of his ideas they "can hit like bolts of lightning at any given time." So much so, that Stefano sketched out his initial ideas on a napkin.
Beer "Cap Catcher" idea captured in a napkin sketch.
The next step was to "sketch" the Cap Catcher on computer.
Final product, caps and all!
Where can you buy this bottle cap gobbling gadget? It's available online at amazon.com for $9.99 USD. You can also go to Trudeaucorp.com and click on the "Where to Buy This Product" button to access a list of retailers.
When: Wednesday, February 1st, 2012!
TO ENTER: write a comment below, telling us what kind of beer (or root beer) you'd like to open on Super Bowl Sunday using the Cap Catcher.
Winners will be announced on Wednesday morning, February 2, 2012 on our DiggersList Facebook wall.
The contest is now closed…and the winners are:
Michael Hubbard
Sandy Jerry Seruntine
Rob Kitzinger
Elisabeth Bell
Will Stubbs
Robert Bolyard
Thanks to all our "DiggersListers" for participating and to Trudeau USA for their awesome Cap Catchers! Winners, to have your Cap Catcher sent to you, please email your mailing address to: [email protected]. Thank you!
Meanwhile, enjoy this freebie "Beer Caps" game!
What do you think about the "Cap Catcher"? Let us know below in the comments, or tell us on our DiggersList Facebook page! We'd love to hear from you!
Drink responsibly, keep it clean, & cheers!