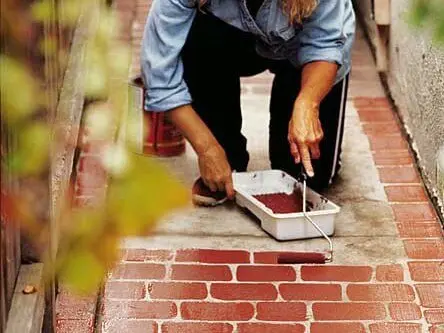 Creative thinking often leads to problem solving, like DIY weekend warrior, Claudia Darr who, armed with brick red paint and a small hand roller completed this 100-foot-long path in just an afternoon. For those of us "stuck" with outdated or worn cement patios, paths, and sun rooms, this imaginatively sneaky, yet effective faux brick painting technique can be a wonderful solution for bringing new life and an updated look to your home…cuz, as we all know, there's no place like it.
Here's what you'll need:
Single brick for template maker
Brick red outdoor paint (alternative: brick red fence stain)
Small hand roller
Concrete sealer
Optional: masking or panting tape (to lay down pattern you wish to paint)
Optional: sponge (cut to size of a brick for easier application)
Here's what you do:
Sweep, then thoroughly clean cement surface free of dirt and debris (use a wide broom with soapy water for harshe

r

dirt and stains). Allow to dry.

Use a brick as a model to begin painting pattern or as a template to measure and tape off

desired design (use 1/2″ wide masking or painting tape). Note: cool thing about using the tape, once removed, the space between looks like mortar between the bricks.
With roller or sponge (cut to the size of a brick) apply paint. Note: if using a sponge, alternate and rotate the sponge with each print to create a differing and more realistic brick design.


Remove tape and allow to dry (approx. 24 hours).

Apply sealer. Done!
Q. Would you use this faux brick technique in your home's exterior space?
All photography by Skaie Knox, HomeJelly