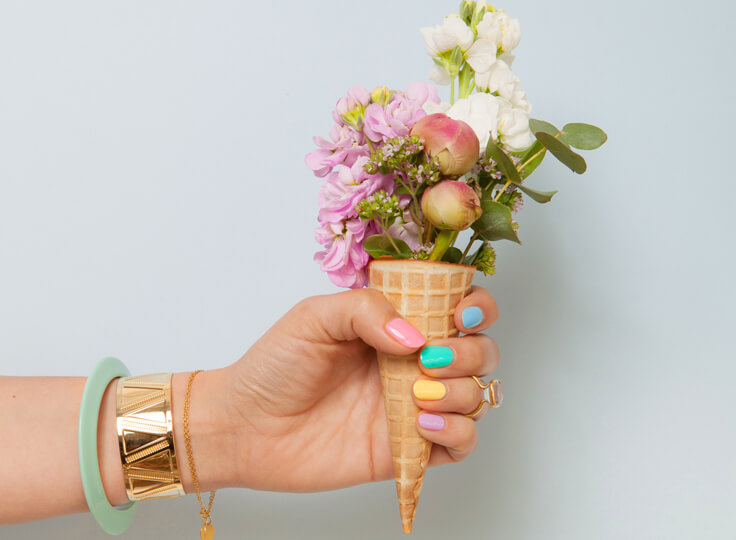 With the season's flourishing blooms, there's no better time to invite Mother Nature to stay a while. Instead of the conventional glass or ceramic vases, why not try something a little different like these creative and cool containers? The ideas are endless, but, we hope these will inspire you to think outside of the planter box and into something really unique.
Umbrella flower container: even though April showers might still require us to keep our parasols at the ready, most of us have an extra one lying around. With the use of water vials or foam frogs inside water-proof plastic bags, you can creatively display your favorite blooms.
Rain boot container: you know you've needed a new pair of boots anyway! These repurposed rubbers are quaintly rustic and add a touch of masculine energy; a perfect decor dialectic to keep balance in our homes.
Ice cream cone containers: you can't get any cuter than this. Perfect for weddings, an anniversary (hint, hint Matty!), or, with the use of a candle holder like in this "before" photo, you can have a very flavorful floral display that will delight guests of all ages.
Belt container: hipsters, rockers, and fashionistas will appreciate their ability to harness their sense of style to show off their favorite flowers. Take it up (or in) a notch and cinch a vase with more colorful or patterned sashes.
Old (phone) book container: finally! A fantastic and even beautiful way to repurpose those weighty and wasteful phone books we receive every four months. Just in time for "Earth Day", you can make a clever and environmentally friendly statement by planting a plant or small tree in yours.
Extra! Extra! Here are some fun outdoor repurposed planters you can try in your homes as well.
Feature photo by plantpropaganda.com