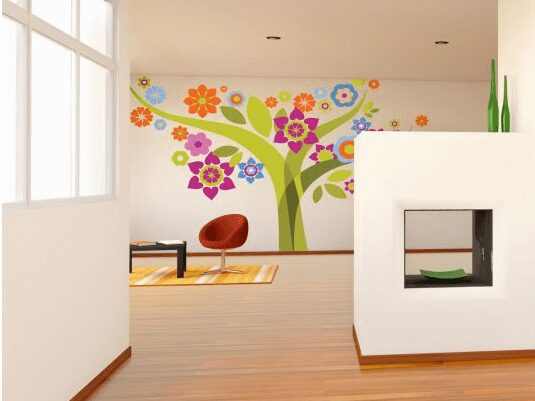 If you're a "Sex and the City" fan, you might recall how Mr. Big framed his "California King-sized" bed with and even bigger red wall; the quintessential example of a "feature wall". This hot new trend in to the DIY world is where a homeowner (or renter) adds an unexpected splash of color and/or "design pizazz" to one wall (often keeping the other three in a neutral color), thus bringing focus and interest to a previously bland space. I've learned more about this design "trick" from shows like HGTV's "Devine Design" with Candice Olson, "Dear Genevieve" with Genevieve Gorder, and "Color Splash" with David Bromstad.
As these experts explain, paint isn't the only way to transform a wall. Everything from a revitalized fireplace with a mantle and surround, textured wallpaper, murals, sculptured wood paneling, artwork, photos, and wall hangings can be used to highlight a prominent partition. Below are examples of how one wall was metamorphosed from "Plain-Jane" to "Unique-Monique".
• Simple paint to coordinate with bedding and/or accessories is a "colorific" choice.
• Go bold and whimsical with painted patterns, murals, and designs.
• Traditional built-in book cases and stone work can feature a fireplace nicely, or add a pop of color for an unexpected effect.
• Both modern and classical wall paper can define a wall with your personality. They're also great if you're looking to create an eclectic look to your space: classical wall paper paired with a modern chair or vice versa with the modern wall paper paired with a classic wing-back.
• Wood paneling is warm, unique, and lively.
• White walls? A splash of colorful art will make it pop!
• Why shouldn't our lives be featured?
• Mother Nature-who better to focus our attention?