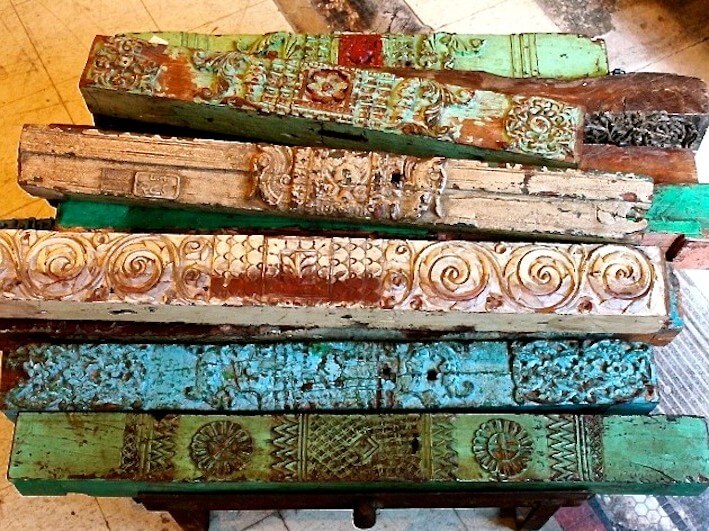 It's a hot one…just about everywhere right now! So, turn up the heat in your room with something unique like these centuries old Indian lintels, horizontal supports made of varying materials like timber, stone, concrete or steel which were once used as load-bearing building components, decorative architectural elements, or both. They are often found over entryways, doors, windows and fireplaces and can also add a degree of rustic warmth and character to any bare wall.
We love how HGTV Design Star, Emily Henderson hung them vertically behind the sofa in her design challenge winning room!
Found on our travels to India, we added a hanger to our antique Indian lintels and voila! It's the perfect accent piece for your otherwise bare wall. Also, a great way to add interest to your snooze-fest of an entry or doorway.
We are in love with the rich colors and hand-carved detail of these gorgeous artifacts. Hammer & Hand is always looking for a way to help our clients add a touch of rustic to their home décor, and these are the perfect accent pieces!
One day we received a collection of Indian door headers, and I noticed that several of them were thick enough to be used as a shelf. I was like, "Wait a minute! We can use these as shelves!"
My husband, Chris told me that for the past two years, we have actually had them cut down. He then mentioned it would be easier, after we picked them, to leave them in their original state.
You can't just go out and buy a shelf like this anywhere. So, from now on…no more cutting! Au natural baby!
You can find these beautiful artifacts at Hammer & Hand – singular, sustainable, timeless.
All photography (except noted) by Chris and Amy Plaisted, Hammer & Hand