With Father's Day less than a week away, I thought I'd pass along some cool home improvement gadget gift ideas to replace the usual necktie you may have put on your list of "what not to surprise him with" this year.
#1. Attic Flooring by Attic Dek-these lightweight panels are specifically designed for your unfinished attics to provide flooring for more storage square footage, access to attic mechanical systems, or to install sound systems, etc. (these panels can hold up to 250 lbs.), and for elevated flooring in your basements/garages. It takes just 15 minutes and a screw driver to install four to eight panels. Price: $39.00 per/8 pack.
#2. Dual Towel Dryer/Warmer-Great for a luxurious post-shower wrap for dad. Easily moves from horizontal shelving, to vertical warming rack. Price range: $159-$119.
#3. Combo Rake-Shovel-recommended by HGTV's Paul James, this combination rake, shovel, scoop and fork is a light-weight multitasking tool for all kinds of yard duties (i.e. mulching, raking/picking up leaves, spreading soil, etc.). Price: $17.90
#4. Eureka Toolbox Vac-a toolbox and shop vac in one. What's cooler than this? Not only can dad work on his DIY project, he can also clean up in spiffy! Compact and convenient, an absolute "dad-gadge" must have! Price Range: $69.95-$84.00
#5. Touchless Dimmer Switch-with the wave of your hand you control the lights. Aesthetically beautiful, easy to find in the dark, excellent for kids and/or individuals with motor difficulties, and hygienically beneficial. I had to list this as a cool "dad-gadge" after seeing multiple 5 star reviews raving about this super product. For the dad who loves to "geek-out" on gadgets, the model name and number is Anigmo ST2-600M Touchless Dimmer Single Pole Multi-Way Switch, Incandescent-fewww! Price: $79.00
#6.) Backyard Bar Wooden Beverage Cooler-this stylish cooler is the perfect Dad gift and will keep his favorite malted barley, cereal, grains and hops crisp and refreshing all spring, summer and fall long. Price: $279.99
#6. Flipping Awesome Grill-a Tongs: what dad (or granddad) wouldn't LOVE his own personalized set of grill tongs? Made of stainless steel and maple wood, and customizable name up to 12 characters. Price: $39.99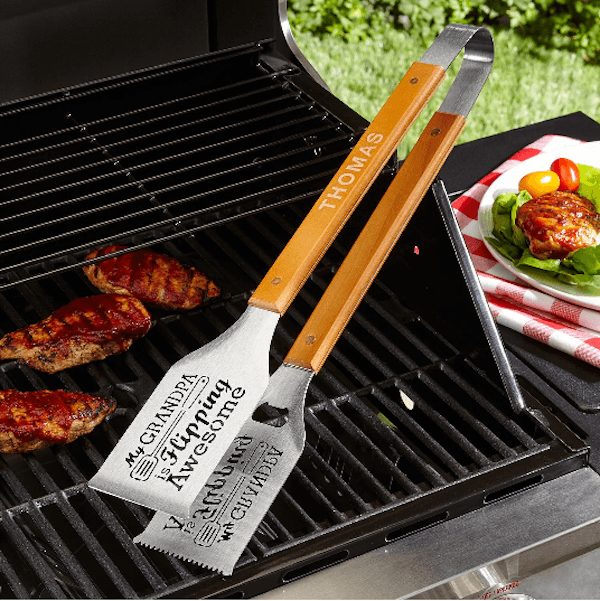 #7. Hand Crank Extension Cord Winder-this "keep-your-cables-untangled" gadget is receiving excellent reviews from DIYers and professionals alike. Easy and convenient to use, it's also low cost to boot! Price Range: $17.08-$32.59