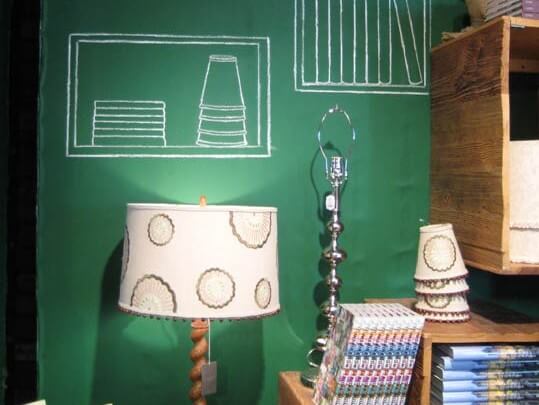 Retro is so in, it's almost modern. The elements of "old school" design and decor is also practical, long-lasting, and, when executed with a clever eye, it can be quite beautiful and cool. I've featured several fantastic uses for chalkboard paint, demonstrating how sometimes the simplest ideas can be the most sophisticated in application.
Chalkboard Wall Calendar: a more conventional approach, teetering on the obvious is still a very mod design element that can be added to any office-home or away. Photo courtesy of marthastewart.com.
Chalkboard Kitchen Cabinets: this is a great way to cut down on displaced pans, utensils, cookware, etc. With your cabinets labeled, everyone can easily find and put back everything in its proper place. Photo courtesy of everythingfab.com.
Chalkboard Book Shelves: the only thing collecting dust on these shelves, is, well, the shelves themselves, only it's because they're actually made of it! This is a cheeky approach to wall art for the seriously pseudo intellectual. Photo courtesy of apartmenttherapy.com.
Chalkboard Armoire: let your quirkiness out of the closet, or, in this case, the armoire and display it for all to see! Photo courtesy of jessgonacha.blogspot.com.
Chalkboard Garage Storage Cabinets: my favorite of the bunch, this one makes the Dean's List. Because of its simply ingenious use of chalkboard paint that can be easily changed and updated, your garage will always be organized and tidy. Photo courtesy of remodelingguy.net.
Chalkboard Decorative Vases: Picasso would have been envious of these artistically simple and elegant vases. Photo courtesy of blog.makezine.com.
Chalkboard Glass Labels: this idea is so freaking fabulous, I want to throw a party! These labels are not only fun, they're absolutely functional, and will be the toast of the town with all your guests. Photo courtesy of maddiegdesigns.com.
Chalkboard Bathroom Graffiti: reading materials in the loo will no longer be required. Guests, kids, and anyone, eh hem, needing to spend a little time in your water closet will have plenty to read and/or write. Photo courtesy of the 818.com.
Extra Idea-Chalkboard Band Bus: because all of us here at DiggersList are musicians, I couldn't pass on this design idea. What a magnificent way to showcase your band or brand! No car wraps necessary here…and don't be surprised if you see a DiggersList chalkboard bus on a street or highway near you! Photo courtesy of forums.vwvortex.com.
For more information on where to buy chalkboard paint and tips on how to apply it, refer to our blog "Weekend DIY: How to Make a Fancily Framed Chalkboard."
All photography by Skaie Knox, HomeJelly