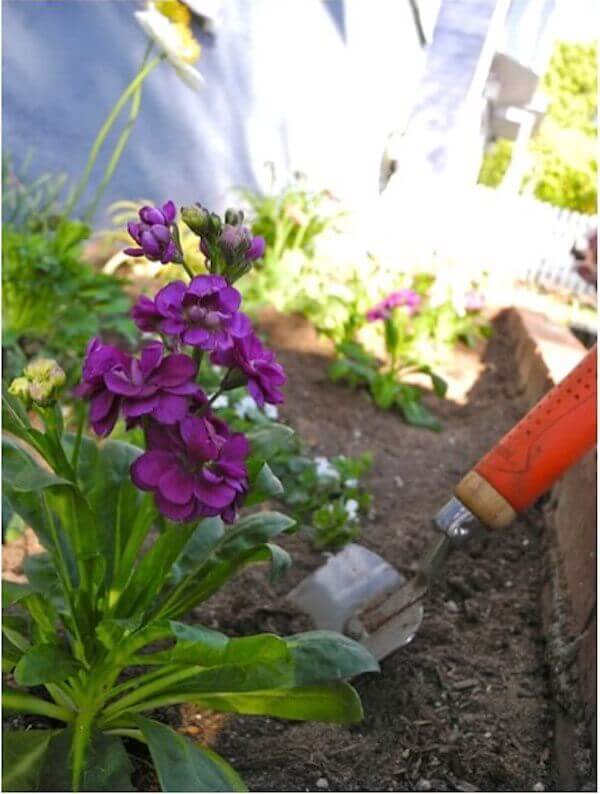 If you're like our family, summer, ironically, is a very busy time. Traveling, entertaining, schedule changes (school's out ya know!), conferences, and lots and lots of DIY projects.
Yeah, I know…cue the tiny violins.
Inevitably, during the summer season, the one area that often gets used and "happily abused" is our outdoor spaces. Whether it's our backyard grassy area turned into a slip 'n slide or running-through-the-sprinklers runway, or our shady trees that we've thanked over and over again for being overgrown and able to provide respite from the dog days' sun.
However you slice it (or, in this case prune it), we're nearing the end of summer and it's time to turn our attention to preparing our gardens and greenery for fall. With these 5 easy steps, your garden and outdoor spaces will not only look spiffed up like a student ready for the first day of school, they'll be in shape for more fall entertaining and will handle the weather change like a boss!
#1. Trim Trees 'n Shrubs
Though the shade has kept us cool all summer, once fall comes along, those leaves will keep us busy all autumn. Trim along fences, roof lines, patios, decks and windows. Be careful not to accidentally snip electrical lines or cables.
Ouchie…that would hurt.
One tip? Get yourself a quality pair of loppers, hedge shears and pruners. It'll make the job oh, so much easier and faster.
Luckily, Fiskars provided me with two of their fantastic trimming tools to test and try this past weekend: the 18″ PowerGear2 Lopper" and the 32″ PowerGear2 Lopper. I, thus, provided my husband Matt, with his tools of the day!
Thank you Fiskars!
After about 20 minutes, I ask him what he thought of his new "Honey-Do" implements, and his response was, "If you are looking for strength and torque, these are the tools you'll want."
And I didn't even pay him to say that!
The 32″ lopper was great for thick branches, up to around 2″ in diameter – they worked like butter and had the power to cut through some of our toughest stems and branches we used to have to saw through. The "Little Lopper" was super easy to handle, was light and had the power to cut through 1 1/2″ branches.
I only wish we had the hedge shears! Still, the loppers took care of them, too.
Note: be sure to wear gloves and glasses – you'll be snipping so fast, debris will be fly'n!
#2. Prune 'n Clean Dead Plants & Flowers
August is a perfect time to take stock of your garden and clear away dead flowers and leaves. It's the easiest way to perk up your petunias and all your other perennials. Additionally, pruning promotes growth, and with cooler months just over the horizon, your plants will need to have the advantage to last as long as they can until there is frost or snow.
#3. Clean Rain Gutters and Rooftops
For those of you who live where it actually rains (thanks, Albert), it's super important to clear our gutters to avoid water damage to our walls and foundations. Yep. When gutters aren't funneling water away from our homes, it pools and seeps into places like window sills and wall or pathway cracks.
We definitely know what dry leaves can mean in Los Angeles. They're just kindling for that errant firepit or fireplace ash or, God forbid, an electrical spark. To avoid this potential hazard, and while you're up there cleaning those gutters, sweep away dry leaves, seeds, and tree debris.
#4. Aerate, Seed 'n Fertilize
Fall is the alarm clock to revitalizing our lawns. And after all that slipp'n 'n slide'n, it'll need some aerated breathing room, too.
Now, there are different types of aerators – a simple step-on one (as pictured above), shoes with spikes, and ones that have hollow plugs that'll pull grass and soil from the sod. The former types are okay for soil that is more porous, like our sandy-type. The latter is better to avoid compaction in areas where grass goes dormant during the winter snows.
Hearty seeds like Bermuda (drought-resistant), fescue (shade-tolerant for dryer environments) and rye (for cooler areas) are great all-around grasses and should be planted in fall to give them time to grow strong roots and absorb as many nutrients as possible before the cooler months.
Be sure to fertilize to give your seeds a winning chance at taking hold. Follow the instructions to see when it might be necessary to reapply.
#5. Replace Annuals with Perennials
My practical-thinking farm girl mom always told me, "Buy perennials. They'll last so much longer than annuals!"
But, I love all the pretty annual flowers!
Hm. That being said, those once bountiful buds are looking a little sad these days and won't look any better in September. If you're like me, come springtime, you'll be jamming your hatchback or trunk with flats of impatiens, but for now, it might be prudent to go perennial.
Note: don't fret, though! You can save those annual seeds and bulbs and re-plant in the spring.
Perennials last throughout the fall and, if you live in warmer climates, all year round. Since we've had an adolescence-like allowance of water in our city (yes…it's the right thing to do…), I've turned to planting and even propagating succulents.
Give either type a try…you'll have greenery either way all fall!
All photography by Skaie Knox, HomeJelly
Fiskars has provided me with products used within this project. I was also compensated for my time and this blog post. All opinions and positions expressed here are my own and do not necessarily reflect those of Fiskars.