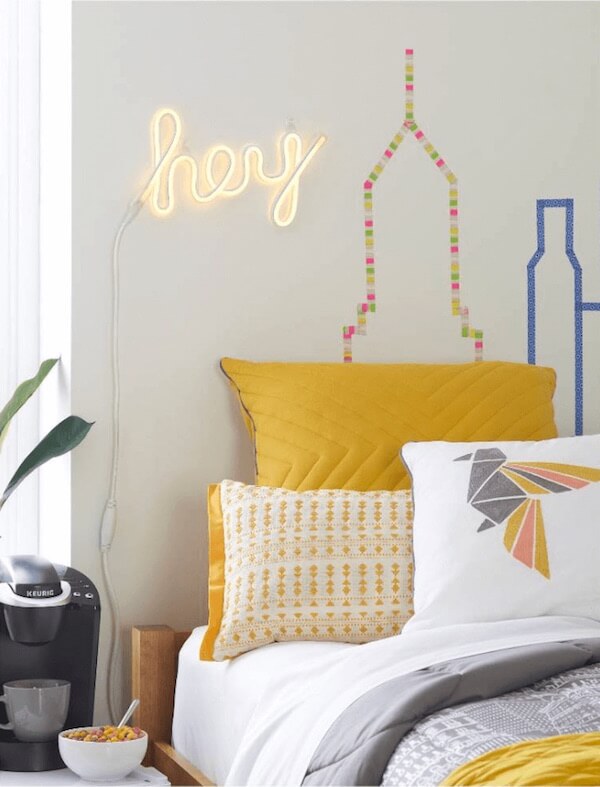 My sweet cousin, Miranda, messaged me last week asking, "…I was wondering if you had any fun dorm room decor ideas on a budget? I'm really excited to make my dorm room some place really cozy."
First of all…awww…I love that she asked, and I'm so excited for her first year away at school!
God knows, most every dorm room could use some warming up. Unless, you like white cinder block walls and 20 year old HARD linoleum floors. Lovely and oh, so charming…
Mmm…not so much.
But, with aaaaaaaall that's available in stores online and off, how does a student-with-a-budget decide on what to purchase?
(Cue: long trumpet horns…da-da-da-daaaaaaaah!)
Today, I've gathered some great tips, DIY projects, shops and budget-friendly must-haves to help you create a dorm room that's warm, wonderful and oh, so YOU!
Mm..kay. Let's first start off with my…
A."Easy as 1-2-3″ shopping tips:
Decide on a STYLE/VIBE and color scheme: are you modern, boho, beachy, eclectic? Designer tip: google or search on Pinterest the design style you're interested in, then use those photos/ideas to help you choose items, patterns, textiles, etc. you love. When it comes to colors, it's good to decide on 2-3 main hues, then you can add in different shades to mix it up a bit.
Know and stay within your budget: yes, as exciting as it is to decorate your first away-from-home home (even if it's just a room), you still need to stay on budget. You'll end up super proud of yourself that you started out on the right financial foot…remember, you've still gotta purchase yourself some styl'n threads!
Choose FUNCTIONAL and FABULOUS decor: there's nothing better than decor doing double-duty (yeah, say that 5 times fast!). Seriously, though, with space at a minimum, you'll need to make every piece count.
B. Buy or MAKE your dorm decor. Here are my top 3 favorite shops PLUS a great post on DIY decor!
C. 10 MUST-HAVE dorm decor items. Below is a handy shopping list to deck out your dorm room, PLUS some totally doable DIY projects to save even more money. Note: click on each photo to purchase and/or find DIY instructions.
1. Bedding/Pillows: in dorm rooms, your bed is most likely the largest piece of furniture in the room. Here's where you can really set the vibe for your space and make it yours. Designer Tip: go bold AND comfortable! With so many fabulous comforters, quilts and pillows to chose from, your bedding can offer a big punch of style. You'll also be spending a lot of time underneath and on them, so be sure you lovelovelove how they make you feel. Look for REVIEWS that focus on comfort, not just design.
2. Storage/Organization: with shared and small quarters, you'll need to keep things tidy. Why not look fabulous at the same time? Cute caddyies, containers, racks, baskets, boxes and bins will not only store your stuff, they'll add stylish texture and color as well. Note: don't forget the space under your bed…lots of good room there! Here are things you'll need to organize:
• books/notebooks/folders
• pens/pencils/scissors/tape/glue
• jewelry
• makeup
• toiletries (*most dorms have shared bathrooms/showers, so portable caddies are great for making getting-ready-for-school-or-bed easy)
• clothing (clean AND dirty)/shoes
• chargers/phone/devices (*be sure to strategically place storage of these items out-of-site! They're hot items that are easily snatched!)
3. Area Rug: one super great way to warm up your room is with a graphically interesting, fuzzy or fluffy floor rug that's round, square or rectangle. It'll add a pop of color, texture and define your side of the room!
4. Bulletin Board: an absolute MUST-HAVE for fun photos, party flyers, important notes, class schedule and what-have-yous! There are great ways to DIY them, too!
5. Decor Accents/Picture frames: pops of color and texture (i.e. metals, ceramics, plastic, etc.) show off your personality. Additionally, photos from mom and dad, sister, brother or high school friends are great to keep you company (not to mention your pet(s)!). Fancy frames can illustrate your style and color story, too.
6. Lighting: with all the studying you'll be doing (eh-hem.), you'll need to supplement your room's lighting with a lamp or two of your own. With so many great options available, like gooseneck desk lamps, neon lights, string lights and light-weight pendant lights, here's where function and fabulous meet again.
7. Door Decor: don't forget your dorm room's door (inside AND out) as a great way to show off your style and to message your dorm mates! Note: be sure to check with your school's restrictions regarding what you can use to hang, apply or install in your room and on your doors.
• Mini white board with attached erasable pen and cute magnets
• Removable decals
• Removable wall paper
• Extra large photo
• washi tape
8. Wall decor: you'll definitely need to dress up those dreary dorm walls. Here are some wonderful ways to happify your room:
• graphic posters
• diy photo mural
• faux taxidermy
• photo collages/post cards
• interesting mirrors
• tapestries/textiles
• DIY graphic washi tape designs
• removable decals/wallpaper
• DIY fabric decals
• signs
9. Curtains: if you'd like to really make your dorm room stand out and soften, add curtains! Be sure they're full-length and color coordinated with your bedding. There are solids and patterns that'll tie your whole decor story together.
10. Plants: another softening decor trick is to place plants around your space. Ficus, philodendrons and succulents of all kinds are super easy to care for and look fantastic on desks, side tables, shelves, window ledges and hanging in a corner.
The number one rule in design? Have fun and LOVE what you place in your space!
Now It's Your Turn!
Send us a photo of your dorm room and we'll feature it in a HomeJelly update blog and on Instagram! Send high-res images to [email protected].