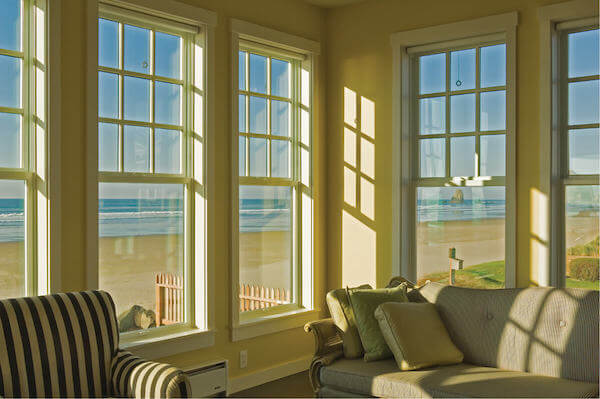 Quick question: if you could choose one design element to instantaneously modernize your home, both on the inside and out, what would that be? Yes! You're right! Windows, which can be seen throughout every room in your house, as well as from the exterior, do this in one fell swoop. That's some great news when it comes to your budget, both with time and money. And, no matter what architectural design you own, you can easily create an updated, modern home by being savvy when choosing your window style.
So, when you plan your next renovation, weigh in these window-shopping tips we've illustrated below using our favorite, high-quality designs from today's sponsor, Milgard Doors & Windows.
Strategize Your Views
Today's modern home takes advantage of window design and placement to maximize views and natural light. When making changes to your home, it's prudent to consider what rooms you'd like to add more light to, what direction your home faces and the types of outdoor surroundings you'd like to see and experience every day. Strategically adding more windows, large glass windows, or floor-to-ceiling patio doors provides you the scenery and light where you want them. And choosing styles with narrow frame profiles offer the most viewable glass area, like this stunner from the Milgard Trinsic Series.
Honor Your Architecture
The wonderful thing about modernizing windows these days, is that there are many options that allow you to upgrade the look and functionality and honor your home's architecture. Older, multi-paned windows can be upgraded by installing replacement windows like this beautiful, single hung style from the Milgard Ultra Series. A single glass frame creates an open view to the outside, topped with a classic grille pattern window that maintains its traditional charm.
Enjoy classic French doors but with modernized features such as these by Milgard. Built with long-lasting and durable fiberglass, energy efficient glazing and a contemporary grille that's both fresh and charming.
Create a Bold Design Statement
Make a bold, modern statement with dark-framed windows that will punctuate the interior and exterior beauty of your home. We especially love the Milgard Ultra Series fiberglass windows like this kitchen window below (available in four exterior frame hues). Its high-contrast color literally and figuratively creates a picture frame to capture the outdoor scenery.
(Ultra 051) Make a bold, modern statement with black framed windows that pop.
Obscurity glass allows you to continue this boldness into bathroom spaces. With its built-in benefits of privacy and volumes of light, as well as the many available glass designs, you can explore striking modern window styles like casement windows – ideal for allowing steam to escape, as well as inviting fresh air and angled breeze to easily waft throughout the room.
Utilize Technology
Energy efficiency is a hallmark of an updated, modern home. With new technology comes benefits that can save you money in the short and long term. Here are just a few ways you can take advantage of modern glass innovation:
• Dual and Triple Glazing: glazing is not just for donuts! It also another word for panes. Older windows were designed with just one pane of glass. Today's energy efficient windows utilize double or triple pane glass which insulates a home to keep it cool in the summer and reduces energy usage during colder weather months. Triple paned windows adds even more protection against the elements, ideal for homes located in more extreme-temperature regions.
• Low-E glass: this is a special coating that reflects infrared light which helps regulate heat in the winter and summer, as well as reflecting the damaging effects ultraviolet that can often discolor and fade furniture.
• Warm Edge Spacers: non-metalic and hybrid metal/non-metal spacers keep a window's glass panes properly spaced to minimize heat loss.
• Gas Fills: odorless, colorless and non-toxic gasses such as argon and krypton are inserted between glass panes which better insulates than regular air.
• Quality Frame Materials: to up the energy efficiency and long-lasting durability factor even more, choose quality framing materials including fiberglass (resists swelling, rotting and warping), vinyl (non-corroding, low-maintenance), or aluminum (light, recyclable).
Though windows are a big investment, if done so strategically, the payoff will reflect in saving money and enjoying the durability, functionality and beautiful style and views for years to come.
All photos courtesy of Milgard Windows and Doors (except where indicated).
GIVEAWAY IS NOW CLOSED!
CONGRATULATIONS! Shelly Benkman! You WON the giveaway! Please contact us @ [email protected] and leave your mailing address! We'd like to THANK all who participated! Please stand by for more giveaways to come! Woohoo!
Tell us what is MOST important to you when it comes to buying windows for a chance to win a $50 Visa Gift Card.
HOW TO ENTER: in order to be eligible to win, you must:
#1. Leave a COMMENT BELOW or on our social media pages (Instagram, Facebook or Pinterest) telling us what is MOST important to you when it comes to buying windows. Choose from the following categories:
The Views
Keeping with the Architecture of your Home
Creating a Design Statement
Technology & Energy Efficiency
#2. For a second chance to win, share this blog post on Pinterest, Facebook or Twitter with the tag #homejellywindows AND #winwithmilgard.
Sponsored by
Milgard Doors and Windows invited us to create this informative article on creating a modern home with window styles. We also received compensation to write our thoughts and choose our favorite windows in this post which helps fund these free posts and projects. My personal opinions are completely my own based on my experience. I wouldn't have it any other way!